Main Sections
Front Page
Sports
Valley Vitals
It's in the Stars
Starwise
Archives
Links
About The Voice
Contact Us
Sharing Memories Of Family Home And Yankee Ingenuity With Barbara Fitz-Gerald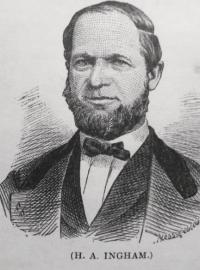 photo by provided

H.A. Ingham was born in Saybrook, Connecticut in 1820 and moved to Vergennes in 1840. He built his large and historic home on Woodman Hill in 1878.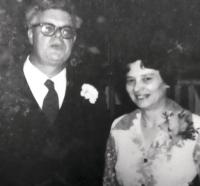 photo by provided

Tim & Barbara Fitz-Gerald came home to Vermont to raise their family and lived with history both in their business and in their home.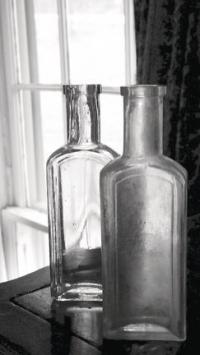 photo by provided

Two of the empty bottles of Dr. Ingham's famous elixir that was made on the property for over thirty years.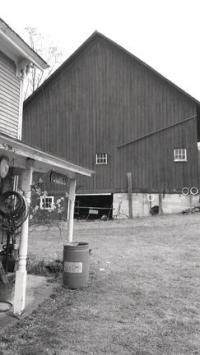 photo by provided

One of the barns that Tim Fitz-Gerald kept full of antiques to entice the visitor and collector.
Monday November 28, 2016
By Cookie Steponaitis
When Barbara and Tim Fitz-Gerald moved to Waltham forty-seven years ago to open an antique shop they searched for a property they could call home. Fate and luck led them to a three-story structure that had been a community landmark since its construction in 1875. The Fitz-Gerald's set up shop on Woodman Hill and became the caretakers of a home with a unique heritage and story that demonstrates the tenacity, durability and ingenuity of the people who settled the area and the people who still call it home today. Sharing memories of the Fitz-Gerald's life as a family is linked to those who came before in a house that bore witness to it all. History tells that is was late on a fall evening in 1878 when the ship Oakes Ames carrying a full shipload of lumber ran aground on the opposite shore to Basin Harbor. Dr. Harvey Ingham who was a local resident and Deacon in the Baptist Church contacted the owners of the ship and had the water-logged wreck towed into the harbor and brought aground in front of where the Basin Harbor Lodge stands now. The keel of the ship remained in the water at fifty feet and the lumber and all of the salvageable wood from the ship were brought to the property where the house still stands. Dr. Ingham had a dream of creating a three-story home with a church on the third floor and a place in the basement to make and patent a medicine called 'Dr. Ingham's Pain Extractor' which was made with 84% alcohol and 2.5 grains of opium per ounce.
Ingham left the Baptist Church because the congregation refused to let him serve communion to people termed 'drunkards and derelicts' and built the home that would pass through several hands before becoming the home of almost fifty years of the Fitz-Gerald family. Each generation would add a new layer of use and story to the home. In fact Dr. Ingham built a Baptistery on the front lawn which was four feet deep on one side and two feet on the shallow side fed by a natural spring with thirteen hand hewn stones quarried from the Gaines Ledge. At the time of his death Dr. Ingham had bottled and sold over 30,000 bottles of his cure. Barbara Fitz-Gerald has two of the empty bottles which were found in the walls when the family moved in.
The second generation to occupy the home turned it into a thrift shop and sold pants, clothing and household items in the family living room. The 'Old Woodman House' as it was known by the locals had a thriving business and sold essentials during the Great Depression and into the late 1930's. It reached its peak business at its 25th anniversary in 1955 and then the shop was sold to George Gokey a local antique dealer who turned the business from things of the present into things of the past. "It was August of 1969 when Tim and his wife Barbara came up the Route Seven corridor looking for our home," explained Barb Fitz-Gerald. ­"The property at the time had no locks, no keys and we crawled through a shed window to check it out. We had no water, no electricity and no indoor bathroom and we carried drinking water in for several years. It was camping out and it was an adventure."
Barbara Fitz-Gerald always had called Vermont her home and spent a lot of her foundational years at her grandparents' farm in Shaftsbury. "What I found so intriguing was the skills that farmers had," expressed Fitz-Gerald. "When you needed something, you learned how to do it. Necessity was in fact the mother of invention. I guess the same can be said of us here. Tim could fix almost anything and when we needed lights he took a car battery and rigged it up so we could have light. We used candles to go from room to room and we got by." In fact, the antique business was absolutely a family affair and children Ralph and Ruth grew up moving antiques, waiting on people and going to auctions and events with their parents. "I came home one day," grinned Fitz-Gerald, "and I was met at the door by my son Ralph. I guess he was about thirteen at the time. He told he had sold two cherry drop leaf tables. We were both happy about that."
While the family roughed it by modern standards, the adventures of the children, sleepovers, rumpus room, five grandchildren and three great-grandchildren echo in the stories shared by Barb Fitz-Gerald as she takes people on a tour of the historic home. Picking up random items of the antiques on hand Fitz-Gerald explains the beauty of everyday items and the unique nature of each piece. "There were no patterns," she explained. "Let's talk about bread making. People had ovens in the front yard of the homes and they were deep. So they needed something to take the bread out of the oven. You would go to a blacksmith and he might take a piece of iron and turn it into a hook or perhaps a flat pan with a handle and if you wanted the artistry, add a ram's head to the handle. Each piece was one of a kind and yet utilitarian in use. You invented what you needed."
With holidays bringing generations to the table the house will again echo with the laughter, stories and voices of the generation that have called it home. Recipes will be shared, rooms explored, pieces of antiques handled and viewed and a house explored by the newest members who have not yet seen its secrets. "Do you know what is in here?" queried Fitz-Gerald as she opens yet another door in the fourteen-room house. "Right behind that wall is the handwritten recipe for Dr. Ingham's cure all. Unfortunately it was painted over. Just a part of living in Vermont and being ready to reinvent and to work hard." Tim Fitz-Gerald passed away in 2007 and Barbara still carries on his shop and the Yankee ingenuity that has been a part of the history of the house since its building in 1875. A home built to last generations has indeed done just that and is another reason to be thankful as we gather together during the upcoming holiday season that our ancestors were tenacious, inventive and choose to call this valley their home.

---
Advertisements
Search our Archives