Main Sections
Front Page
Sports
Valley Vitals
It's in the Stars
Starwise
Archives
Links
About The Voice
Contact Us
TaeKwon Do KICKS Break-a-thon Raises $5000 For Charities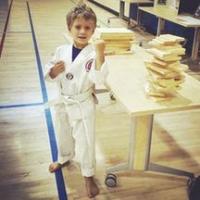 photo by provided

Rowan Neffinger.




photo provided

Top row LtoR: Alex McGuire, Logan Denis, Lydia Vaine, Sam Vaine. Bottom row LtoR: Norris Family, McGuire Family, Cari Wilch, Sebastian Grant.
Tuesday October 18, 2016
The students of TaeKwon Do KICKS of Vergennes, Middlebury, Orwell and Hinesburg celebrated their 10th Birthday by participating in a major Break-A-Thon for Charities and raised a total of $5000. Ten charities were selected to support: Homeward Bound; WomenSafe; Addison County Special Olympics; Champlain Valley Agency on Aging; Middlebury Recreation Department; Camp Ta-Kum-Ta; Big Change Round Up; Charter House; Addison County Benefit Tractor Pull and Derick Leroy Benoit Scholarship Fund. Each charity has received $500.
Students worked really hard on breaking boards and asking for pledges. Hinesburg students were Owen Cook, Reese & Trey Lindquist, and Theo Broussard. Vergennes students were Jack, Alex, Brody, Carter, Liam, Tess and Ozzy McGuire; Amber & Carson Manley; Catherine Kiehl; Cheryl Herrington; Chris, Collin & Cyrus Clair; Eli Schonbube; Gideon Palmer; Izaak & Josiah Wolniewicz; Jack Stratz; Jadin Brown; Lauren, Lilly & Tessa Sivo; Lisa, Paul & Zac Norris; Louis Provencher; Marianna & Reneta Webb; Rowan Neffinger; Sarah Wales; Silas Quinn; and Sylvie Henley. Middlebury students were Aubree Brown; Cady, McKenna & Morgan White; Cari Wilch; Irina Feldman & Sole Pareja; Jackson Trump; Kelly Dragon; KiSung Davis; Logan Denis; and Lydia & Sam Vaine; and Sebastian Grant. These students broke over 500 boards.
This event also wouldn't have been capable without the help from our business sponsors. Lamell Lumber of Essex Jct and Goodro Lumber of Middlebury donated boards. The following businesses donated $100 each to help add to our total donation amount: The Lobby of Middlebury; Long Trail Physical Therapy of Middlebury; WowToyz of Vergennes; Vintage Fitness of Vergennes; Peak View Eye Care of Vergennes; Wales Flooring of Vergennes and System Integrators of Bridport.


---
Advertisements
Search our Archives