Main Sections
Front Page
Sports
Valley Vitals
It's in the Stars
Starwise
Archives
Links
About The Voice
Contact Us
Special Live Performance To Benefit Local Veterans' Programs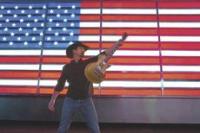 photo by provided

Jamie Lee Thurston.
Tuesday October 18, 2016
By Cookie Steponaitis
At the heart of the mission of the Veterans of Foreign War Post # 7823 is the needs of local veterans and their families. As part of a plan to raise money for programs for veterans in the area, VFW Post # 7823 is proud to announce a November 5th live performance by singer/songwriter Jaime Lee Thurston. "We need to make sure our veterans are taken care of," explained Post # 7823 officer Michael Jackman. "We are more than a place for veterans to gather," added Post Quartermaster Bub Crosby. "We are a gathering point of people and services to benefit veterans.
Coming to the VFW in Middlebury on November 5th, Thurston is no stranger to veteran's causes and it is in fact one that is near and dear to his heart. New England native Thurston was three when he stood on the stage for the first time with his father. With his own hit record and a career including working with the top names in country music, Thurston has opened for the Dixie Chicks, Jason Aldean, Charlie Daniels and others. While an accomplished performer, Thurston has also written award winning pieces for many of today's top voices in country. Partnering with Easter Seals and other programs benefitting veterans, Thurston produced a mini-documentary "Ghost in His Eyes", and uses it to raise awareness and funds for veterans suffering from PTS and TBI.
Brought to Middlebury VFW through the efforts of longtime friend and liaison Jackie Rivers, Thurston's show will be live and with 100% of the profits generating returning to VFW Post # 7823 for use with local veterans. Generously sponsored by Mike's Fuels in Brandon and Bridport, G. Stone Commercial in Middlebury, Blondin Brothers Auto Body in Williston, Vermont and G. Stone Motors, Inc. With a total of 200 tickets available, the post wants the community to know that all ages are welcome and tickets can be purchased for $ 12.00 advanced sales and $ 15.00 at the door. The door opens at 7 pm and the show time is 8pm-10pm. Please contact (802) 388-9468 or look for tickets at Pratt's Store in Bridport. People can also enjoy food for sale that night and a raffle for some special prizes of Thurston's music. Opening the event will be 8-year-old Octavia Devine who will sing the National Anthem. "I used to think of superstardom and playing to thousands of people," remarked Thurston. "but now I think of how to make a difference." Come and join in a night of live music and fun that supports those who have served to keep our way of life intact and our freedoms a reality.
---
Advertisements
Search our Archives