Main Sections
Front Page
Sports
Valley Vitals
It's in the Stars
Starwise
Archives
Links
About The Voice
Contact Us
Days Of Farm And Field Visiting With Dean Jackson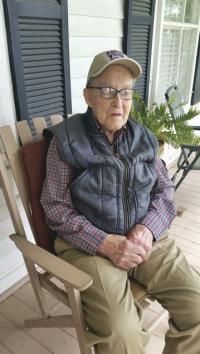 photo by provided

Dean D. Jackson in July 2016.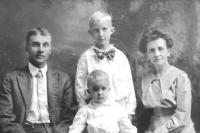 photo by provided

Dean's parents Ara and Lora Jackson with Dean's older brother standing behind him-circa 1918.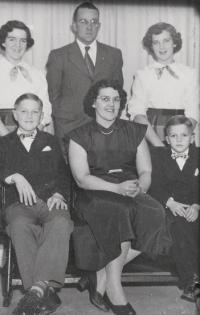 photo by provided

Dean and Alberta and their children-Bessie on Dean's right, Janice on his left. Roger on Alberta's right and Richard on her left-early 1950's.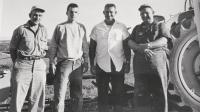 photo by provided

Dean, Richard, Dean's nephew George and Dean's brother Walter-late 1950's.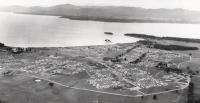 photo by provided

This aerial view of Button Bay State Park shows how extensive the Girl Scout Round Up was and it welcomed them from all over the USA and world.
Tuesday August 2, 2016
By Cookie Steponaitis
While sitting on his front piazza, Dean Jackson gazed out at what has been Jackson land since the 1790's and under his care since the early 1960's. Seven generations have lived and farmed the land. As Dean looked forward to his 100th birthday arriving just before Addison County Farm & Field Days, his love of the farming life that connects him to the animals, work and traditions help us to understand the agricultural community that we are today.
Dean Jackson started farming with a pitchfork and loose hay while tagging along after his father. The family had twenty cows and milking was done by hand. "While my father was a horse person I absolutely fell in love with cattle. I had a dream to own a registered herd of Holsteins," recollected Dean. "My wife and I had saved up a little money and we went to the New England Holstein sale in Northampton, Massachusetts in the early 1950s. We had $250.00 and hoped it was enough. We were able to bring home one heifer calf. At the time we had a 1940 Chevy car with an open back. We put the heifer in a bran sack and started home. We got pulled over on the way home by an officer who wanted to know how far we had to go. When I told him Vermont, he suggested we slow down a bit. I was so excited about the heifer that I had not been paying attention to the speed."
While that heifer was not fated to be the beginning of the Jackson Holstein herd, others followed that were. Jackson got a 'hankering' to show cattle at the Addison County Farm & Field Days in the late 1940s, and started working toward what became the very first cattle show shortly thereafter. "There were only three of us that brought heifers to show that first year," explained Jackson. "Back then Field Days was held at different farms around the county. This first year of cattle Field Days was at Flora Purington's Farm in Lincoln. It was cold, and one of the wettest summers with vehicles getting stuck left and right. The tent for the Heifer show leaked and only two of us three original exhibitors ended up showing our heifers. From that day on, I worked for the cattle show to grow and develop."
"I worked on the cattle barn that exists now at the Field Days site. Tom Howlett gave the logs and I hauled them to the saw mill where they were sawn into rough boards. I took our bench saw to Field Days and cut the boards into two inch strips to use as battens on the barn. Dean's smile gets brighter when he talks about the growth of the 4-H program and the number of young people introduced to farming through it. The 4-H show that is put on at Field Days is the biggest in New England except for Eastern States. It is so exciting to see the animals and the kids working with them and learning about farming and agriculture."
In all the memories shared by Dean Jackson, two themes run simultaneously, family and community. Jackson smiled and commented, "You know my sixth grade teacher always told us its not where you start or where you end up, but rather how you play the game that counts." I have always thought that was a good theory to life to follow and have tried to use it as a guide. Family is what's important and what we can show the younger people.
Over the years a lot of different people have stopped by the farm and started in motion events linking Dean and his family to community and one of kind events. A lady drove up to the Jackson barn in a fancy car one afternoon in spring of 1962. "She asked me if we still had a team of horses and I replied we did," remarked Jackson. "She wanted me to draw a load of Girl Scouts that were coming to the area down to the lake from the Button Bay camp sites. She offered a good price and of course I haggled a bit with her to get it up a bit more. Since I was always looking for extra ways to earn money with four kids to feed, I took her offer. Turns out one of my team came down with a hoof ailment my vet had never seen the likes of before and I had to borrow a team. On July 18- 31st in 1962 Girl Scouts from all over the world came to Button Bay. Dale Marsh the ranger at that time had created signs and an amphitheater for all of them to use. It was simply amazing. We hauled the girls to the lake and showed them about the animals and the farm. Do you know twenty years later one of them sent me beautiful photos of the team and I. That meant so much to me."
Field Days founder Lucien Paquette turns 100 during the Addison County Farm & Field Days this year and there is a lot of attention and focus on making this year even more special. For Dean Jackson, making farming special is the agenda every day and he has worked the land and milked his herd day in and day out from 1962-2006 with his wife and partner of seventy-seven years Alberta Jackson. The couple raised four children, added to the farm, restored the barn and built a dream into a reality. While no Holsteins run on Jackson land anymore, son Richard has a thriving beef cattle business and the sound of bovines can be heard from the front yard of the Jackson homestead. As the interview wrapped up, Jackson paused and smiled as the sun came out. "I hate gloomy days," he shared. "I hear people all the time saying it's too hot out there and I feel like saying at least its sunny." Chuckling a bit Jackson concluded with one more memory. "I was in the barn one morning when the vet came to the barn and he was really grumpy. I commented that things aren't going well today Doc and he said things aren't going well in Addison County with damn few real cow men left."
The Valley Voice is sad to share that on Friday, July 29th; Dean Jackson passed away peacefully and is no longer with us to reach his milestone 100th birthday. However, the Jackson family and the entire Valley takes solace in the pride Dean Jackson showed for his love of land, farming and family. While the valley celebrates Addison County Farm & Field Days, they are actually celebrating the legacy of Dean Jackson and all those who embrace the agricultural lifestyle that makes this region so very special.
The Jackson family would like to share that Dean's funeral will be at 1:00 on Wednesday, August 3rd at the Addison Baptist Church, with burial to follow at Prospect Cemetery. There will be no visiting or calling hours.


---
Advertisements
Search our Archives