Main Sections
Front Page
Sports
Valley Vitals
It's in the Stars
Starwise
Archives
Links
About The Voice
Contact Us
Carving Out Small Masterpieces With Raymond Paquette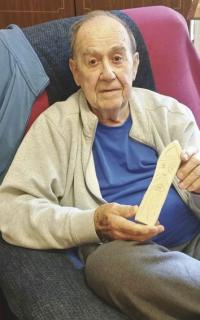 photo by provided

Having just turned 90, Raymond Paquette has been carving for over 60 years and still finds joy in his creative projects.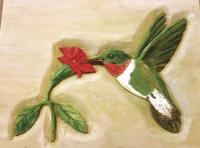 photo by provided

Painted by daughter Lynn, Raymond's carvings come to life and celebrate nature!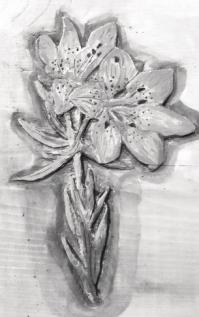 photo by provided

Loving summer flowers, Raymond's carvings keep them alive for all time!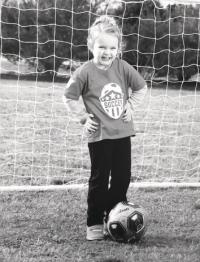 photo by provided

Great-granddaugher Ashlynn has the spunk that Raymond feels the next generation needs!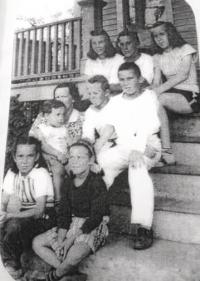 photo by provided

Like all of his siblings, Raymond was impacted by growing up in the WWII era.

Friday July 1, 2016

By Cookie Steponaitis

While most people look at a block of pine wood as kindling or something to stack up, Addison County artist Raymond Paquette looks at it and sees potential. It could become a hummingbird, landscape, walking stick or a new treasure for one of his five grandchildren or six great-grandchildren. Raymond Paquette grinned when asked to share how long he had been whittling and carving and said," How old am I?"

Raymond was born in New Bedford, Massachusetts to Arthur Paquette and Melina Boudreau Paquette and fourth of eight siblings Constance, Arthur, Gene, Ray, Leo, Jacqueline, Pat and Paul. Raymond came of age during World War Two following most of his classmates into the war serving in the U.S. Navy from 1944-1946. He was not the only member of his family to serve in the U.S. military. Older brother Arthur served in the U.S. Navy in World War Two, Leo in the Korean War and Paul in the Vietnam War. "There was fourteen years from the top to the bottom of us," explained Raymond. "By the time I joined at the age of seventeen Arthur had already been serving for quite a while."

Raymond credits the Navy for being instrumental in his life at a time when instead of being wild and raising heck, it gave him structure and lessons in behavior that would last a lifetime.

Raymond Paquette moved to the Champlain Valley at the age of nineteen and found himself working on the family farm located on North Bingham Road in Cornwall, and when asked which part about farming he liked the best replied quite honestly, "None of it!" With 100 head of cattle and 72-78 milking cows Paquette found himself with eighteen hour days that shifted from milking to hay crops. Milking machines were just coming on line in Addison County in 1946 and Paquette remembers with a smile a Cartmell Salesman coming to sell milking machines to his father. "Don't need any machine," quipped Paquette Senior. "I raise my own." While farming what not what Raymond enjoyed, community service was. Today, Raymond is the only surviving original member of the founders of the Cornwall Fire Department which was started in 1948.

While haying and all that goes with a farm might not have been up Raymond's alley, the farm period in his life introduced him to someone special. He met Barbara Piper and to hear Raymond tell it, "knew right from the get go that she was the one." They dated just over a year, married in 1949 and were inseparable until Barbara's death fourteen years ago. After moving off the farm Raymond worked for Henry Palmer's Garage, Beckwith Motors and capped out his career with thirty eight years at Polymer's. The family grew to include daughters Marcia, Alison and Lynn and today boasts five grandsons and six great-grandchildren.

While his father could never figure out what he saw in whittling and carving, he did admit to his son that he admired his talent. During the interview Paquette reached into a drawer next to his chair and pulled out a piece of pine wood with several faces carved into it. "It was over sixty years ago that my father tossed this piece of wood at me and challenged me to make something out of it," reminisced Paquette. "One hour and a half later I had carved this, and my father looked at it and smiled. I still keep it to this day."

Paquette has several pieces in progress at the same time offering him a creative outlet that serves him well as he enters his 90th year. "My daughter Alison paints what I carve," shared Paquette. "We like to do projects together. While Allyson inherited her mother Barbara's painting talents, none of the children have taken to carving. They all gave it a try at one time or another. They said it was too hard." While he does not carve every day, Raymond Paquette finds time to complete projects that include wild birds, landscapes and another local favorite carved tops for walking sticks. "I don't sell any of my pieces," shared the Addison County artist. "They are for friends, fun and keeping me creative. To date I have completed 239 birds and they all have good homes with friends. I only have about three of them that I held on to.

Raymond Paquette is watching the coming presidential election with interest and a bit of humor and referred to the possibility of a full female Democratic ticket as "that's the end of that then" and the current Republican Party's nomination as more "air than substance." Referring to Eisenhower and Kennedy as his two favorite presidents, Paquette shared that time will change people's perceptions on different leaders but he misses the events like the Space Program when Americans knew what it was to work together as a country. Paquette pointed to a favorite photo of great-granddaughter Ashlynn and her soccer skills at three and a half, smiled and remarked, "That one will take on the world, just you wait."

Paquette no longer lives by himself, but gets up early every morning and walks around the park near his home until his legs remind him he is ninety. Then he returns to his beloved whittling and carving while talking to friends and keeping an eye on the world through television, radio and the newspaper. "You know," concluded Paquette at the end of the interview, "I just wish today's folks would stop finding excuses not to volunteer or try new things and just do it. I think my generation jumped in because we had to, but that stayed with us our whole lives. Who knows, your generation might even learn to like carving!" The Valley Voice salutes Raymond Paquette and his generation and knows that we all could learn a thing or two from the generation who came of age when America did the same.
---
Advertisements
Search our Archives