Main Sections
Front Page
Sports
Valley Vitals
It's in the Stars
Starwise
Archives
Links
About The Voice
Contact Us
Boys & Girls Club And Others Receive Help From Lions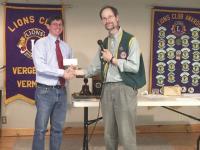 photo by provided

Vergennes Lions President Chuck Burkins presents Vergennes Boys & Girls Club Executive Director Mike Reiderer with a check!
Tuesday May 10, 2016
Mike Rederer, Executive Director of the Boys and Girls Club of Vergennes, spoke to the Vergennes Lions on Wednesday night. He spoke about the growth of the club during the past 17 years, 12 of which have been in their current location. He spoke about the improvement going on with adding a kitchen and better bathroom facilities with a shower as well as a laundry. He mentioned how the landlord was putting in new ceilings and lighting. Mike said that for years, they have had a feeling that what they had was "good enough." The directors have decided that "good enough" is not good enough. He said that when he started as director, the poverty level of the young folks was 30% and now it is 50%. There are currently 116 members of the club with an average daily attendance of 20. Each year the club is evaluated, by the national organization, on a number of key areas, and that they consistently meet or exceed 11 of the 13 areas. He is hoping some of the planned improvements will help them meet the final two areas – one of which is outside activity.
Mike also introduced the Lions to Jessica Francise who has recently been hired as program director. He sees Jessica helping to meet their mission "to inspire and enable all young people, especially those who need us most, to reach their full potential as productive, caring, responsible citizens."
After the talk, Vergennes Lions President Chuck Burkins presented Mike with a check for the Boys and Girls Club in the amount of $500, whereby Mike thanked the club for their ongoing support and encouragement.
In recent weeks, the Vergennes Lions have also donated $500 to the Vermont Association of the Blind and Visually Impaired and $1000 to the Bixby Library in Vergennes.
Tickets for the annual vehicle raffle are now being sold and further planning for the Memorial Day activities are underway. In addition, July 13 is the date for the Annual Vergennes Lions Charity Auction, so members are starting to look for auction items.
---
Advertisements
Search our Archives