Main Sections
Front Page
Sports
Valley Vitals
It's in the Stars
Starwise
Archives
Links
About The Voice
Contact Us
Aurora Students Win Infymaker Award And A Surprise Trip To The White House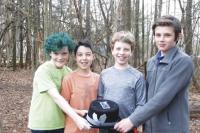 photo by provided
Tuesday April 19, 2016
Students from Aurora School in Middlebury have recently won the $1,000 Infymaker prize and a $10,000 Makerspace grant for their ingenuity. The Infymaker Contest, created by Infosys Foundation, asks applicants to "showcase your innovative thinking and making to solve problems facing individuals, communities and our world." Henry Swan, of Ripton, and Toby Wells-Spackman, Ronen Silberman and Noah Woodruff Berg, all of Middlebury, formed a group with the idea of inventing something new.
The four students focused their attention to the idea of modifying a top hat for cooling as well as heating purposes. The group split into pairs, and Wells-Spackman and Swan worked on a cooling hat, while Silberman and Woodruff Berg worked on a warming hat. The warming hat was equipped with a battery and wires that heated aluminum foil within the hat, creating an earmuff effect.
Meanwhile, Wells-Spackman and Swan worked to alter a top hat made by Swan's mother, Nora, a milliner. They cut holes in the hat, adding mesh for ventilation. Then they installed a battery and an interior propeller, as well as solar panels to the top of the hat, so the hat could cool its owner using various types of energy. Once the hat was complete, they created a short video as part of their entry. The informative and witty video no doubt helped the duo gain the attention of the Infymaker award judges.
Recently, Swan and Wells-Spackman were contacted with wonderful news about their cooling top hat. Team Coolkap had won the $1,000 prize and the opportunity to nominate a non-profit of their choice to receive $10,000 grant to create a Makerspace. A makerspace is a creative, hands-on space where people can gather to create, learn and invent. Makerspaces are often equipped with tools, technology and craft supplies to inspire creation. When asked about his reaction to winning, Wells-Spackman said, "I was just awestruck when I was told we won." His friends all agreed. "It was the shock of winning!" Silberman agreed. "And, realizing that it means actual progress," Woodruff Berg added, referring to the idea that these four share—they all say they want to be inventors when they grow up, and they are thinking of starting a company together.
Beyond winning, the project was particularly special for Swan, who joined Aurora School this year. "Basically, I was new and didn't know anyone. We got to know each other much better as a result of this, and I saw that teamwork actually works."Though Wells-Spackman and Swan are the two official winners, all four boys will share the $1,000 prize equally—a decision they made before entering the competition. And now, all four are turning their attention to helping to create a Makerspace in Middlebury. Associate Director of Aurora School Elaine Anderson is excited about the prospect of Aurora School teaming with another local organization in Middlebury to offer a Makerspace that all local students may use. "Creating a Makerspace will help to legitimize the idea of being creative and tinkering. Lots of kids love to experiment, build and invent, and having a space and program in which to do so will be very inspiring.
We're so proud of Toby, Henry, Noah and Ronen for their great ideas and this new opportunity." The four friends are now busy dreaming of their next invention. "We're thinking of making magnetic fabric that would float," Woodruff Berg shared. Wells-Spackman added that they hoped this fabric could be added to the bottom of a shoe, so the wearer could actually float. This idea fits well with Aurora's curriculum next year, as students will begin the fall with a hand-on study of magnets and electricity, hopefully in their new Makerspace.
Just last week when the reality of winning had set in, Wells-Spackman and Swan got some even more exciting news. They have been invited to join other students from around the country at the White House Science Fair on Wednesday, April 13th. Having not entered the the White House's contest, they were particularly surprised and thrilled at the invitation. Swan and Wells-Spackman will get to meet other promising young people in the fields of science and technology, and they will be able to hear President Obama speak about education and in particular, STEM education. In an AP release earlier this week, President Obama was quoted at the first-ever White House Science Fair in 2010, saying then, "If you win the NCAA championship, you come to the White House. Well, if you're a young person and you produce the best experiment or design, the best hardware or software, you ought to be recognized for that achievement, too." Aurora School is very proud of their students for their innovative design, for their Makerspace grant, and for receiving such a once in a lifetime opportunity at the White House.
---
Advertisements
Search our Archives