Main Sections
Front Page
Sports
Valley Vitals
It's in the Stars
Starwise
Archives
Links
About The Voice
Contact Us
An Olympic Moment Frozen In Time Revisiting Jesse Owens And The 1936 Olympics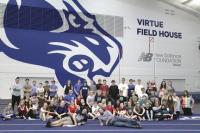 photo by Cookie Step

Stopping for a photo in front of the Middlebury College mascot, the 8th graders from Team Endeavor were very thankful to be able to start their unit with the Jesse Owens-1936 Olympic Games recreation at the Middlebury College Indoor Track facility.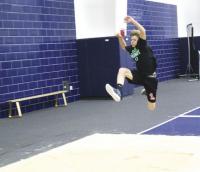 photo by Cookie Step

Like Owens, the student athletes put their all in to the events he won the 4 gold medals in.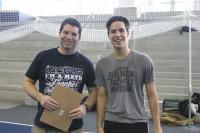 photo by Cookie Step

Team Endeavor Teacher Sean Nary and former Commodore Chris Castillo pause for a moment between heats!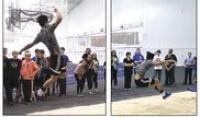 photo by Cookie Step

Showing the 8th graders how to jump was former VUHS champion Chris Castillo.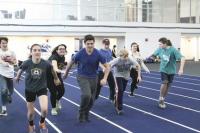 photo by Cookie Step

Handing off the baton is not as easy as it looks and it took practice and patience to land it.
Tuesday March 29, 2016
The 8th graders at VUMS launched into history this week, both Olympic history and Civil Rights history. Traveling to Middlebury College Track to run the 100 meter, 200 meter, 4X100 meter relay and attempt the long jump, the students were doing more than recreating the iconic 1936 Berlin Olympics performance of American athlete Jesse Owens. They were launching into an interdisciplinary study involving World War II, Civil Rights, Scientific analysis of speed and velocity and how the actions of an individual can impact the lives of others. As part of this day of Owens, the group spent the earlier part of the week learning about the life and career of Jesse Owens. Divided into teams, the students participated in the famous gold medal events of that long ago Olympic games and then moved to the Marquis Theater to watch the new film, " The Race", which focuses on Owens as an athlete, a citizen, a symbol and a hero. For many it was their first track races and their first time collecting data on their own performances in each event. Returning back to school, the teens then began to unpack what they had seen, felt and reflected on how Owens career was in fact a turning point not only in Olympic sports, but American history as well.

---
Advertisements
Search our Archives