Main Sections
Front Page
Sports
Valley Vitals
It's in the Stars
Starwise
Archives
Links
About The Voice
Contact Us
"Face Off Against Breast Cancer" Hockey Tournament Celebrates Half Million Dollar Milestone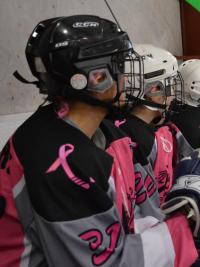 photo by Photo Provided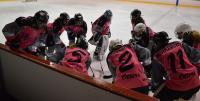 photo by Photo Provided
Tuesday February 2, 2016
By Cookie Steponaitis
Seventeen years ago two women's community ice-hockey teams began a tradition with a tournament that not only helps people stand up to cancer but raises funds and awareness. to date it has raised a half a million dollars for charity. The event was established in 2000 when a member of the Middlebury Otters was diagnosed with breast cancer and continues each year to draw more people and stand strong against the impact of cancer on individuals and families.
Dubbed "Half Million Strong" the Face Off Against Breast Cancer (FOABC) brought together women's hockey teams from all over the state to the Memorial Sports Center in Middlebury on Saturday and Sunday, January 30 and 31st. In addition to the founding teams the Middlebury Otters and Mystix, other teams included Bare 32 Degrees and Team Warrior, Vermont's Manchester Rusty Blades, Northeast Kingdom's Hockey, the Burlington Switchblades and many other teams who participate in levels including recreational, novice and competitive.
Besides the action on the ice, FOABC had a heated tent and a celebration going on with live music provided by the cover band The Horse Traders and raffle drawings. Local high school and college teams also came to "Pink the Rink" and these will be followed by other fundraising events at Middlebury College Women's Hockey games. Supported annually by generous sponsors including Dealer.com, the Addison Independent, Woodchuck Hard Cider, Celebration Rentals, Inc., Fyles Brothers, The Horse Traders and Two Brothers Tavern, the FOABC is still seeking additional donations and sponsorship in the amount of $50.00-$5,000.00.
Co-Chairs Cathy Chase and Kris Bowdish have been involved in the event for many years and like all who attend have no plans to stop until cancer has been moved to a list of diseases that have been cured. Cancer strikes all people regardless of age, gender, race or ethnicity. Listening to the personal stories of the people involved in this event shows the power of people to work together to help and reach out to those facing the diagnosis and all that goes with it. " It feels awesome to be a part of this tournament that combines a sport we love with a cause that affects us all in some way," shared hockey player Sandy Chicoine. " We who participate see the multiple ways in which the tournament helps others. It gives us an opportunity to honor those who have fought cancer and are no longer with us, such as my friend Melanie Davadian, and my two grandmothers. It gives us to time to celebrate survivors, like my friend Liz Cronin who was the original reason our team, the Otters started the tournament years ago. It also provides an opportunity to raise money for Vermont cancer patient in need of emergency funds." Hitting the ice with love, with purpose and with results that continue to grow each year, the teams of players and all celebrate the victories both small and large on the journey to a day when cancer will no longer be a threat. The Valley Voice salutes all who played and all who work so hard to help those impacted by cancer.

---
Advertisements
Search our Archives