Main Sections
Front Page
Sports
Valley Vitals
It's in the Stars
Starwise
Archives
Links
About The Voice
Contact Us
VUHS Wrestlers Blend Determination Stamina Talent And Charity Work Into An Exciting Season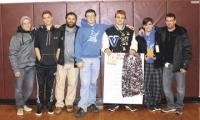 photo by Photo Provided

Coaches and VUHS Wrestlers pause to celebrate a successful tournament in Maine.



photo by Photo Provided

VUHS Senior Jeb Hodsden on his way to a 4th place finish at the Noble tournament.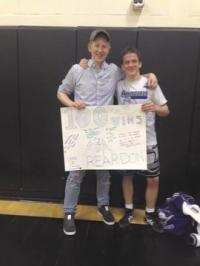 photo by Photo Provided

VUHS Senior Ethan Reardon earns his 100th win and continues the incredible season of the VUHS wrestling team.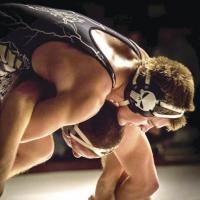 photo by Photo Provided

Brandon Cousino and his wrestling teammates each put 100% into a sport that demands year round work and effort.
Tuesday January 12, 2016
By Cookie Steponaitis
As the VUHS wrestling team steps on the mat there is a ripple that goes through the home crowd. Not giant in size but giant in might and skill, the small groups of VUHS wrestlers are committed to a sport and way of life that certainly is the road less traveled by many high school athletes. "Wrestling teaches you to fight," explained VUHS senior Jeb Hodsden. "Not necessarily in the sense of physical brutality but that life is a fight. Every day you get up and fight through the day. You have your ups and downs but when you lie there in your bed at night, you fought through all of the struggles."
Recently the Commodore squad has been hitting the road competing in out of state tournaments. It is more than a plan to sharpen skills but an active battle plan to meet opponents from the New England levels and engage in competition with wrestlers with different styles, strengths, abilities and keep pushing and making each wrestler adapt to new situations and matches. "Seeing different faces every week keeps you on your toes and hones your skills," added Hodsden.
The wrestling room is housed in the basement of VUHS and the home base is a source of strength and inspiration. On the champion wall are the names, years and weight classes of former VUHS champions and with a heritage of a strong program dating back into the 1970's the wrestlers see not only the names of their current coaches but are quickly adding their own to the ranks. Warm ups begin about an hour before and include a variety of jogging, stretching and drilling the takedowns, moves, escapes, top control, rides and skills that will come into use with each match. Each wrestler has their own style of mental preparation and some look inward but others turn an aggressive stance and attitude toward the opponent. "When you look into a person's eyes, you can tell if they are ready or not," commented Hodsden. "I make sure to stare right into my opponent's eyes before every match. Most of the time you'll see doubt or a girl or boy who's unsure of themselves. Sometimes you'll see fear. It unnerves them. Rarely, you'll run into the kid who'll stare straight back at you. Those are the kids that you want to wrestle. They'll give you a tough fight and that's what makes you a better wrestler."
Watching teammate Ryan Paquin reaching his 100 wins milestone drives Hodsden and other members of the team toward the same goal by year's end. In addition, the group aims for high placement at the State tournaments and to go on to New England's. Teammate sophomore Brandon Cousino is in his third year as a Varsity wrestler and is having a banner year with a current record is 12-0 and his overall record is 94-21. Cousino's goal for this season is to win states, to win New Englands, and to place at the Virginia Beach Junior Nationals. He is also going for 75 pins this season as is at 60 pins right now and is fresh from winning the Noble Tournament in Maine. Cousino is also approaching the 100th win milestone very shortly and has added another layer to his wrestling goals and has combined charity work and fundraising. In a recent letter to local businesses, Cousino asked for people to take moment and reflect on how lucky we are. "Looking back on my past years, I have realized how fortunate I am to have been able to attend a high school and play sports without the need to worry about things such as disease that takes a large sum of money to treat, not having a roof over my head, food in my stomach or not being able to live a normal life because of not having the basic needs," shared the wrestler. He went on to ask people to consider donating $6.00 for every pin he gets, $5.00 for every tech fall, $4.00 for every major decision and $3.00 for every decision he gets. All monies will be given to the Vergennes Lions Club for use in their programs and assistance to people and events in Addison County. While Cousino continues to experience success and face opponents with skill and determination on the mat, he wants to help others and link the skills learned being a wrestler with those that help others in life.
"It's not all fun and games," concluded senior Jeb Hodsden. "Our coach, Nate Kittredge (VUHS Class of '97, 1997 VT 160 lbs. State Champ, 1997 NE 160 lbs. 5th), once told me after one of our tournaments that, 'the battle has just begun and the fight will never end.' That is the natural law of our sport and of life." While many friends and spectators don't understand that wrestling is more than a sport, it is a lifestyle; the VUHS Commodore team supports each other with the diet planning, physical training, mental conditioning and calibration it takes to be successful as a team on the mat and in life. "I'd just like to add that it's funny how underrated wrestling is in most Vermont schools," concluded Brandon Cousino. " We are some of the hardest working athletes, both mentally and physically. We go some days only being able to eat a stick of celery sometimes due to having to make weight for a meet, all the while going through school and having to keepjourgrades up and not letting how hungry we are affect our habits of work. If you go out of Vermont, there are tons of schools where wrestling is THE sport. They get tons of funding, popularity, and recognition that you just don't see in many in state schools. However, Vermont produces top of the line wrestlers every year, even though some are few and far between for some weight classes that are able to go to these out of state schools and tournaments and win."
As the winter winds blow and people find themselves staying in more, a bit of advice to those looking to watch something very unique and powerful. Come to a home wrestling match. Meet the Commodore Varsity Team and see for yourself why the road less traveled is so often the one with the most power, passion and in the case of these young men, one to watch with awe.
---
Advertisements
Search our Archives