When Generations Serve And Teach Meet Fire Fighter Aaron Collette
By Cookie Steponaitis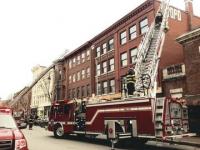 photo by Photo Provided

Taken on December 6th, 2015 Collette serves as the shift commander for Burlington Fire.  This incident involved an alarm activation with a fire sprinkler flow on the first floor of this four story building that was under construction.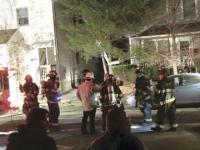 photo by Photo Provided

Taken on November 18th, 2015, the firefighters are shown operating at a second alarm building fire on North Winooski Avenue in Burlington. Collette was the incident commander for this fire and it was the second significant fire that we had in the city that day.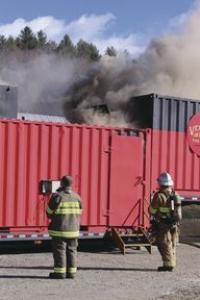 photo by Chief Chris Liller of the Wardsboro Vermont Fire Department.

Collette is working as a part of the Vermont Fire Academy staff teaching their Advanced Fire Behavior Curriculum in Wilmington, Vermont.
It could be said that in the case of Aaron Collette firefighting is in the genes. Aaron's grandfather Ralph Jackman served as the Chief of the Vergennes Fire Department (VFD) from 1945-2009 and his father P. Michael Collette continues his service with VFD with over fifty years on the books. Aaron's grandfather on the Collette side was also a longtime volunteer with the Vergennes Department. Aaron Collette's own exposure to the Fire Service began long before he was an official member. "As a young child I would often tag along with my father as he served in the Vergennes Fire Department," reminisced Collette. "I can remember visiting the Vergennes Station when the apparatus bay floors were still wood because the station was the converted gymnasium for the high school which once stood to the west of the existing Vergennes Fire Station."
Collette joined VFD late in the year of 1988 when he was fourteen years old. Vergennes Fire Department did not have a program in place then to allow members under the age of eighteen to serve, so Deputy Chief Ray Davison worked to create a Cadet Fire Fighter Program. "This Cadet Firefighter program allowed us to attend training and participate in department activities while being covered under the City's insurance," explained Collette. Before the formalization of this program many viewed the presence of youth under age 18 as a liability. Collette completed the Vermont Fire Service Training Council's "Principles of Firefighting" course which is a seventy-two hour program for entry level training for fire fighters at that time in April 1989.
Central to the story of any firefighter's life are the key individuals already in the Fire Service who influenced, taught and encouraged the next generation up the ladder. In the case of Vergennes Fire Department there was a core of people who reached out and not only trained the next generation but gave so much of themselves that the hours of service are actually unmeasurable. Firefighting is more than just a public service and commitment to be there when the bell rings. It is a commitment to keep expanding and learning as the science of Fire Fighting changes over time.
Collette's father, grandfathers and many others fostered his passion for Fire Sciences. "As a young child, I grew up within the Vergennes Fire Department Family, and as such I had the fortune to interact with Deputy Chief Davison," shared Collette. "I could not tell you with any accuracy when I first met Ray. My guess is that a more accurate explanation might be that Chief Davison knew me from birth and only as I grew did our relationship flourish. Chief Davison impacted my career in a variety of ways. First and foremost, he took the initiative to develop the Cadet Program within the Vergennes Fire Department. The 72 hour 'Principles of Fire Fighting' course that I completed in April 1989 was taught by Deputy Chief Davison. As a junior in high school, it was Chief Davison who helped me research college programs that offered Fire Science programs. Don't forget, we did not have the luxury of the Internet to conduct such a query. Chief Davison reached out to colleges across the United States looking for reputable programs. He ended up steering me in the direction of the New Hampshire Technical College in Laconia, NH. Ray accompanied my parents and me on our first visit to NHTC in 1991. Ray continued to follow my progress and mentor me throughout my college career." Following his graduation from the NHTC program in Fire Services, Davison offered a letter of support and recommendation that went with Collette's application to the Burlington Fire Department and earning the position, Collette joined the Burlington Fire Department in February of 1995 at the age of twenty.
Collette's role as a fire instructor for the Vermont Fire Academy also evolved through the brotherhood of the Vergennes Fire Department. "During 1992-1994, I would often tag along with then Deputy Chief Bill Brown of the Vergennes Fire Department," explained Collette. "Deputy Chief Brown was an active live fire instructor for the Vermont Fire Service Training Council. At that point in my fire service career I was a sponge for knowledge. I wanted to learn as much as I could, so the opportunity to attend a fire academy training burn was a win-win. The structure and formality of Fire Training was much more lenient then it is today. I often was able to serve as an apprentice to Deputy Chief Brown during these live burns. Chief Davison was often working these live fire training events as well, where he would serve in the lead instructor role." Collette was formally hired as a State Fire Instructor in 1995 and continues to serve as a Lead Fire Instructor for the Vermont Fire Academy today. The Fire Fighter Level 1 program offered in Vermont is a course of 204 hours in length beginning in September and runs through late spring of the following year. During 2014 220 firefighters participated in the program.
For those involved in fire service there is an unbreakable bond that comes from working together as a team in life threatening situations. "It is an interdependent group much like a web in a truss. We depend on each other for support," shared Collette. "You will never hear about the 'one man' fire department that is successful. Every person on the fire ground is just as valuable as the next. Unfortunately, not all fires are successful; there is of course the reality that the profession involves a great deal of risk. It is these occasions when we realize what the Brotherhood is. It is risking our lives for each other. When things go bad on a fire ground, someone may not be going home to their family. Firefighters will go out of their way to offer support to a fellow firefighter in need, even if it means risking their own life."
Now entering his 21st year at the Burlington Fire Department, Collette serves as the Deputy Chief of Administration just leaving his position of Battalion Chief. Managing five engine companies, one Truck Company and 2 ALS ambulances, Collette and Burlington Fire Department respond to approximately 7500 calls annually. The department operates with three shifts, working 24 hours on, followed by 48 hours off. Our work week is averaged out to 56 hours. "On December 24th Christmas Eve I worked as the shift commander for the city during the day shift. This was the first shift that I had worked as the shift commander with my new Deputy Chief title," expressed Collette. Deputy Chief Ray Davison died on December 24th, 2008. Seven years after Deputy Chief Davison's passing, I was honored to be leading the Burlington Fire Department forces and sharing the title that my mentor Deputy Chief Ray Davison also held."
For Collette and all of the firefighters the demands of the fire service no longer only include fire suppression. When the public dials 911 they are seeking help and regardless if that is the fire department's formal capacity or not, they respond. "There is no other profession that I know of, that in a time of need, which carries the expectation of public trust like that of the fire department," concluded Collette. "A mother will transfer her new born baby suffering from a medical event into the arms of a responding firefighter who is a complete stranger, trusting that he or she will work to make things better." With big hearts and a dedication to serve others, firefighters respond to events and are joined by a bond that keeps them training, working and serving, year after year, call after call, generation to generation.