Main Sections
Front Page
Sports
Valley Vitals
It's in the Stars
Starwise
Archives
Links
About The Voice
Contact Us
A Veteran's Memories With Major Ralph Noyes U.S.A.F Retired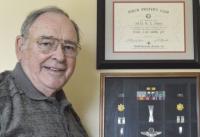 photo by Mike Cameron
Tuesday November 3, 2015
By Mike Cameron
A conversation with former career Air Force jet fighter pilot and instructor Ralph Noyes was a rare gift for this reporter. On a sun-lit Friday morning at his residence at East View in Middlebury, Mr. Noyes took me on an hour long travel log, featuring some of his remarkable life story, for our Veteran's Day 2015 issues.
Ralph is a 'local boy' from Salisbury who joined the U. S. Air Force right out of Middlebury High School at the age of 17. In a twenty year military career, Mr. Noyes rose to the rank of Major, and flew some of the most sophisticated jet fighter air craft in the U.S. arsenal. "There wasn't many jobs or much money around when I graduated from High School so I figured enlisting was my ticket out of town," Ralph remembers. The Korean war was just beginning. The military training was fast and furious across the land. It was the fall of 1950.
After boot camp and some preliminary testing, Ralph qualified for a radio communication school and excelled. Army Signal Corps Communications School was next. He excelled once more. Now stationed in Michigan, he served nine months and then was sent to Korea from the west coast. The trip over from Frisco was rough and space was cramped on the troop ship. Mr. Noyes did not suffer from motion sickness, which would prove to be an asset later in his career. They skirted a typhoon in the Pacific and landed in Japan seventeen days later. "It was a harrowing trip and I didn't have a job at the time so it was killing time. The Red Cross had a library on board which consisted of a large cardboard box filled with books," Ralph was and still is an avid reader and this passion to learn has always served him well.
We asked him to give us his first recollection of being on Korean soil. "We landed at Soul Airport. We were flown in from Japan. I can remember that they housed us at a former woman's college. On the way we passed the Congress Building and there was a hole in the building's dome and a wrecked tank in the front yard, wrecked vehicles and wrecked fences were strewn along a big boulevard."
His next stop was in the Southern part of the Korean Peninsula at an air communications outfit. They were connected to all of the air bases operating in Korea. Then it was on to a P-51 base where he volunteered as a radio operator. It was a fortuitous decision. "I worked in the main radio station where we handled all of the aircraft traffic," Ralph explained. He remembers watching returning air craft from missions "up North," and some were trailing smoke or needed help. "It was an exciting existence for a 17 year old."
The North Korean's and Chinese aggressors were using prop-driven aircraft early in the war and some American pilots in P-51 Mustangs were becoming Aces with impressive numbers of enemy kills during this stage of the war. The U.S. eventually would evolve their air assets from P-51s to F-80 jets and then F-86 Saber Jets. The Communists would move quickly to the MiG-15, flown by both North Korean, Chinese and some say Soviet Union fighter pilots. Communicating with American pilots was the job of then Airman First Class Noyes. His rank was E-5, comparable to a Buck Sargent in the Army or Marines at the time. This however was about to change.
The U.S.A.F. Aviation Cadet Program provided a unique opportunity for an enlisted person with a High School Diploma to become an officer and perhaps even a fighter pilot. Ralph wanted in. He passed his academic and physical qualification screenings with flying colors and was on his way. Pilot training was next. Off Ralph went 'into the wild blue yonder'.
Mr. Noyes eventually spent hour after hour training in the venerable T-33 jet trainer developed and built by Lockheed Aircraft at the time and you can tell, he loved every minute of it. Then came an opportunity to fly one of the most famous air craft ever built, the North American F-86 Sabre Jet. This sleek, swept wing airplane would be Ralph's next ride and what a ride it was. "There were two slots open for F-86's in our group and I got one of them," Ralph recalls with a knowing smile.
It was 1955 and Ralph now an officer and a jet fighter pilot was about to become one of the few to fly the best jet aircraft this country had to offer at this point in U. S. Avation History. He was highly skilled and would become even more highly trained as a United States Air Force F-86 Fighter Pilot. More assignments would follow and more promotions, all the way to Major, the rank he held at retirement after 20-years of serving his country. This was a Pioneer Career involving risk, very hard work, dedication and ultimate respect for his chosen profession. He also worked as a flight Instructor, Air Marshall and for the Federal Aviation Administration.
Ralph is retired, but not the least inactive. This man is a super-senior with a memory as sharp as a tack.
He is an engaging former world traveler, who has visited over 80 foreign countries and is a fluid, articulate conversationalist who exudes a commanding sense of calm while speaking.
We would like to thank Major Noyes for his service to our country and we look forward to picking up the threads of our most recent conversation in the not too distant future. After all, real pioneers are hard to come by and Ralph Noyes is a pioneer in the truest sense of the word. Thank you sir.

---
Advertisements
Search our Archives