Main Sections
Front Page
Sports
Valley Vitals
It's in the Stars
Starwise
Archives
Links
About The Voice
Contact Us
Tigers On To Rutland Blank Hartford 21-0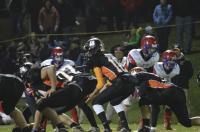 photo by Mike Cameron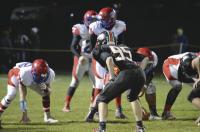 photo by Mike Cameron
Tuesday November 3, 2015
By Mike Cameron
It's a rivalry that has become a large part of Vermont High School football lore because of the great games that have been played between these two solid programs.
In recent vintage only a field goal separated the two and Middlebury was the winner of that play-off. Hartford won big in a Championship game at Castelton State College.
In 2015 both teams could make the big play on both sides of the ball and both had game-breakers on their rosters. Number three seed, Hartford, number two seed Middlebury for a chance to play number one seed Rutland or CVU, the four seed for the VPA Vermont State High School Football Championship was on the line, Friday night October 30, 2015. Post season fever gripped Doc Collins Field. The weather, nasty earlier in the week looked like it would co-operate with no rain at game time. It was a perfect night for football and then things started to go sour for the two time defending champs.
Hartford opened the game by deferring on the coin toss and went right to an on-side-kick. The ball was trailed closely by speedy Brett MacLaren and he almost got it before it spun out of bounds. The same play was tried on Rutland by Hartford and converted. It was clear that the Hurricanes were going all out in this one. Head Coach Matt Trombly and his staff and players were prepared and motivated to move deeper into the post-season. A large and vocal contingent of fans had made the trip from Hartford and they were chomping at the bit for a Hurricane win.
On the fifth offensive play of the game, Tiger quarterback and team leader Oakley Gordon made his usual pivot for a hand off, followed a block and ran into a pile of Hurricanes. Hartford stopped the play for a short gain. After the pile cleared, number 7 was still on the ground complaining about knee pain. He went to the sideline with help and never returned to the line up for the rest of the game.
Back up quarterback Andrew Gleason, a junior with very few snaps under his belt, entered the contest. Gleason knew that he had to make things happen against one of the best High School Division 1 defensive systems in the state. To say he 'stepped up big,' would be a ridiculous understatement.
Gleason who plays regularly on defense for Middlebury does not shy away from contact. He slowly and methodically worked behind the Tigers quick and strong offensive line and moved the ball three, four, five yards at a time with punishing runs between the tackles from Cortland Fisher and Jerry Niemo. Add slashing sweeps from Ali-Abdul-Sader and Trey Kaufmann and the Tigers were able to regain some of the momentum from Gordon's departure at 10:10 in the first quarter.
The Tiger Defense set the tone for play at the line of scrimmage. It was one collision after another. One solid tackle led to another and in the secondary the pass coverage was tight and penalty free. Hartford ran the ball and ran it some more. Quarterback Bryce Landon mixed his plays and the Tigers stopped over reacting on the delay hand-offs after being burned a couple of times for big chunks of yardage. Niemo, Wright, Beauchamp,Laberge, Lacquer, Ryan, Greer, Winchell, Gleason and Abdul-Sader with help from Messier, Smith, and company played hard nosed defensive football and kept Hartford off the board. No one had been able to do that all year. Big Tiger defensive plays dominated. Third down stops. Fourth down stops. Big hits that caused fumbles and sacks.
Missing Gordon also affected the kicking and punting game. Doug Delorenzo another junior got the call and was three for three in points after and his punts were angled well and out of bounds keeping Hartford bottled up on their side of the fifty yard line. Touchdowns by Gleason, (10-yards making it 7-0 via the point-after), Sader ( in the second half set up by a Hartford fumble, went in on a 3-yard blast off tackle and the boot was good making it 14-0), and Neimo setting up a score with a determined run in the red zone and a blast of his own from the 3-yard line. Delorenzo's boot made it 21-0 with 1:40 left in the game) It would be the final score.
Coach Dennis Smith was emotional, enthusiastic and obviously pleased about the Tiger's big win over Hartford. Celebrating with his family after the team post-game huddle Coach Smith said " I told the kids this week that anything can happen in a game at any time and you have to be ready to step up if it does. Andrew, (Andrew Gleason) stepped up and did everything anyone could ask of him tonight when Oakley, (Oakley Gordon) went down."
Cortland Fischer who was a "Tiger" on both sides of the ball said, " This is Tiger football, we take it one play at a time and one game at a time," while jogging off the field to join the locker room celebration.
Brady Larocque had three key sacks in this big semi-final win for Middlebury. Hartford was led by power-back Walkker Judd who rumbled for 107-yards on 11 tough carries. Defensively Walker Judd was solid along with big Brian Moran for Hartford. The Hurricanes have a host of juniors and sophomores on their team. They will be very difficult to handle in 2016.
Next for Middlebury, The Vermont Principals Association Championship Saturday, November 7th 2015 at Rutland's Alumni Field, a beautiful venue and the home of the Red Raiders, Middlebury's next opponent. The game time is to be announced. In past years, Division 1 has been the evening contest, preceded by Division 3 and 2 respectively. It should be a great day for high school football in Vermont and well worth the trip to Rutland and the price of admission. The folks who handle parking and concessions do an excellent job for this event.



---
Advertisements
Search our Archives