Main Sections
Front Page
Sports
Valley Vitals
It's in the Stars
Starwise
Archives
Links
About The Voice
Contact Us
New Café Seeks To Create A Gathering Point For The Community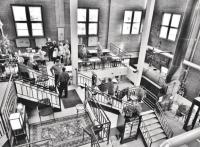 photo by Photo Provided

No matter the angle of the photograph, KB Cafe is set up to welcome people of all ages to gather and enjoy a snack or a meal.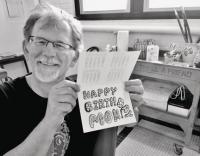 photo by Photo Provided

Barry Snyder in the "make a card" area of the café.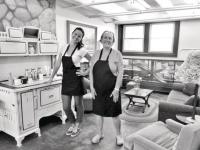 photo by Photo Provided

Dorothy Anguish and Alexa Bourbonnais in the "living room" of the Cafe.
Tuesday September 29, 2015
By Cookie Steponaitis
Kennedy Brothers Café (KB Café) has only been opened for a short time but for building owners Bob Feuerstein and Lillian Kennedy, it is a project that merges the married couple's skills. Revitalizing the Kennedy Brothers building is more than a labor of love. It requires the electrical and engineering skills of Feurenstein and Kennedy's artistic vision to bring the café into being and begin the process of evolving the local landmark and historic building into its next phase of use.
Lillian Kennedy grew up in Bristol, Vermont in and around the family business and standing in the midst of the new KB Café points out the antique boiler that once heated the entire complex and reminisces, "I remember that at full tilt and the amount of heat it threw off. When we took over the business two and a half years ago, we had a plan to revitalize the building, but knew it would be with eyes open and go with the flow process." The couple returned to the Green Mountain State from their home in Colorado and started on the engineering side with structural repairs to the brick building that was needed to keep the historic structure up to code and standards. They put on a new roof, replaced 139 windows, poured a new insulated floor, replaced the 63 year old boilers that were housed in a separate building, and paved the parking lot.
It is said buildings have a heart or a center and for Kennedy it is the new KB Café. It is more than a place with great food and wonderful people; KB Café has nooks, areas and ambiance planned to provide a space for people of all ages and time schedules. KB Café is open to meet the needs of the community and under the management of Dorothy Anguish is offering a collection of sandwiches including Caprese Panino, Smoked Brisket and the tried and true Grilled Cheese and Peanut Butter & Apple Wrap. The café is open from 8:00 a.m. to 4:00 p.m. Monday through Friday (with weekends coming) and has Espresso to die for as well as teas, coffee, breakfast muffins, scones and big cookies that will harken back to those your grandmother made on special holidays.
The KB Café like the building is a work in progress and Kennedy is already looking into new soups to warm the stomach and heart on a cool Vermont fall day. Whether it is to stop in and relax with free Wi-Fi and a collection of artistic pieces from around the region or a small party, club gathering or birthday, the KB Café is ready to serve your needs. Call (802) 877-2400 and talk to manager Dorothy Anguish or owner Lillian Kennedy. The Kennedy Complex is rooted in the traditions of family and Vermont pride in craftsmanship and is again a place of activity and bustle. Come in and see not only the KB Café and staff but take a stroll to see the other businesses that are available on Main Street.
"It warms me up thinking of this space and its intriguing possibilities," concluded owner and artist Lillian Kennedy. "I want this place to be not just a business but a destination, a gathering place and a heartbeat for the community." With a blending of past and present spanning generations and adding an artistic flair to simply wonderful food, it is no doubt that as word gets out more folks will stop in and check out KB Café. Whether it is the made to order sandwiches, the great variety of specialty salads at very reasonable prices or the wonderful sense of warmth the space creates, KB Café is a wonderful addition to the places available for people from all walks of life to come to and enjoy.
Lillian Kennedy and husband Bob Feuerstein are more than just new business owners taking over a space and talking about a new food, an upcoming art exhibit in the space or the holiday possibilities of caroling and special events. The KB Café is a celebration of past and present, tradition and change that looks at the building owned by the Kennedy family and sees the possibilities. "It is a wonderfully crazy undertaking," grinned Kennedy. "But it is one we love doing." Before concluding the interview this reporter was struck by yet another wonderful fact that had spanned generations. When meeting Lillian Kennedy it is impossible not to be struck by the beauty of her smile and blue eyes that for just a moment create a mirror image of her mother's and the classroom where she taught generations and the trips to Kennedy Brothers every Christmas, a building with a heartbeat and one that bridges generations and strong traditions of personal service, dedication to community and evolves as each generation takes the helm.


---
Advertisements
Search our Archives