Main Sections
Front Page
Sports
Valley Vitals
It's in the Stars
Starwise
Archives
Links
About The Voice
Contact Us
The Lake Life And Wally's Legacy Sharing Memories With Betty Shonnard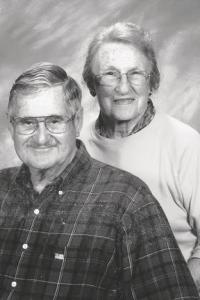 photo by Photo Provided

For Wally & Betty Shonnard, the lake and the Vermont way of life are treasures to preserve, share and pass along.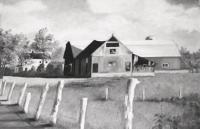 photo by Photo Provided

Betty's dad's farm in Weybridge was where the Lemon Fair River and Otter Creek meet and one place where Betty learned to love nature.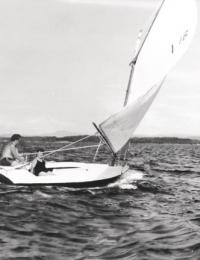 photo by Photo Provided

Wally and Betty loved the lake and sailing was always a favorite of the couple.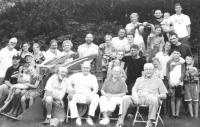 photo by Photo Provided

At a 2013 Shonnard Fest, four generations came together to enjoy each other and summer in Vermont and the lake. Front row L-R Son-on-law Lee, Wally, Betty and Betty's brother John Child.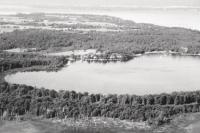 photo by Photo Provided

This aerial photo by Robert Lyons was a favorite of Wally as it shows the home he and Betty built with family and love. It also shows Lake Champlain and the environment which was a passion for Wally and a life long project to create technology that would help people manage their use of the the land and the water.
Tuesday June 23, 2015
By Cookie Steponaitis
Betty "Child" Shonnard loves looking out the windows of her Ferrisburgh home and gazing at Lake Champlain. Betty and her husband Wally have sailed, fished, walked along side and worked for the future of the lake they love so much during the four seasons of the past thirty years. It was the centerpiece around which family, fun and fellowship brought together four generations of the Shonnard family. Weddings were celebrated, birthdays marked and Betty and Wally cared for each other and Wally cared for the lake. Wally Shonnard continued working on new grants and projects around environmental issues right up until his passing in January at age 95. Wally Shonnard was involved and focused on a future that centered on technology, responsibility and choices around the health of Vermont's waters.
Betty "Child" Shonnard and her brother John were raised in Weybridge, Vermont and grew up surrounded by connections to the land and the lake. Her mother Marjorie was raised on the Ebeneezer Ryder farm that today is the host of the largest agricultural fair in the state bringing together generations at Addison County Field Days. Her father Charlie owned what was called the Fairpoint Farm located where the Lemon Fair River meets up with Otter Creek. It was at this family farm where Wally's aunt came for a summer respite and asked if her nephew could work on the farm. While Wally and Betty would be introduced that summer, it would be several years before she would see him again and in the meantime her path would lead her away from Vermont to Cornell University to pursue scientific studies. After the shock of December 7, 1941 she transferred to Columbia University Presbyterian Hospital School of Nursing in New York City to complete her studies in nursing.
Wally and Betty were married just shy of seventy years when Wally passed on January 4, 2015. The couple had four children and moved many times for schooling and careers. They were married in 1945 and started their life together in Ithaca, where Wally was earning his environmental chemical engineering degree. Subsequent moves took the couple and growing family to New Jersey, Glens Falls, Marietta, Ohio and the Niagara Falls area where Wally worked and had an extensive career at Union Carbide. Amidst all of the moves Betty continued her nursing career, coordinated a practical nursing program in Ohio and together the couple raised Jack, Marjorie, Sandy and Douglas.
No matter where the Shonnard's lived, family vacations centered around a piece of land that had been in the family since Betty's great aunt left it to Betty's father in 1939. The piece of property located on Lake Champlain was overgrown and in need of repairs since a fire burned the original structures to the ground. They were given the deed to the property in 1945 as a wedding present and the whole Shonnard family would pick up and come up annually to the property. "We would drag the boat, the dog and the kids up for three weeks," shared Betty with a smile. "One week was spent cleaning and tearing down all the weeds and vines, one week was spent camping and one week was spent getting the land ready to be at rest for the rest of the season. It wasn't hard to be in Vermont because we all loved it."
The couple made the decision to return to the lakeside homestead and put down permanent roots in 1983 when Wally retired from his permanent job. Once again the Shonnard clan gathered from all over to help create the home that stands today built on the pillars of the original structure that burned. Seven grandchildren, five great-grandchildren and a parcel of visits, Shonnard family festivals and lake side weddings keep Betty hopping but it is Wally's lifelong work with environmentalism and the lake to which she returns the conversation. Although officially retired, Wally never retired from working to use inventive forms of technology to enhance the procedures and choices available to Vermonters. Betty equally embraces technology and adores the Internet and Face Time she uses each week to remain close and personal to members of the family spanning the globe.
Working from their home called Ravensnest; Wally focused a lot of his work and research on anaerobic digesters and even experimented with using Lake Weed in the formula to enhance the methane gas that came from the project. Wally and Betty as two of the founding members of the Lake Champlain Restoration Association were tireless in their efforts to help the lake and vocalize the warning signs that nature could not seem to get across to the public at large. "Wally used to say his goal was to develop ways to help people avoid polluting the lake and the land, while managing ourselves and learning how to work with the world around us," shared Betty. "I know Vermont has the image nationwide of its pristine beauty, but our beauty masks some troubles. Our children all work together to maintain the property and to develop habits to preserve the waters. When he passed away Wally was still working on his latest grant and version of the Anaerobic Digester which he felt would be an important technology when food waste was not allowed in landfills. Wally and I both felt that in order to keep the lake viable for the next generation, we have to take responsibility for not only each other but the practices we make around the land and how we use it," stated Betty. Whether it is a Shonnard family festival in 2013, Claire and David's wedding in September 2014 or Betsy and James's upcoming June 2015 marriage, Ravensnest is the dedicated gathering place for the Shonnard clan for celebrations and summer.
While Betty continues to live there year round she did admit with a grin that this last winter was a bit much and she focuses on living one day at a time the best that she can. She strives to make life meaningful and not spend too much time in the past or the future. At 92 years young she admits that is a bit of a trick to accomplish, but with her pet granddog, Stella, and her children around her, Betty is getting the grounds ship shape and the shine and polish on a view of her beloved lake that has now reached and connected four generations of the Shonnard family. Delighted in her family and tickled to get the word out about her beloved Wally's work and message, Betty feels empowered that the next generation will keep alive the momentum to use creativity, engineering and common sense to create ways to keep Vermont's majestic lake for future generations.
"Wally would be so pleased," concluded Betty. Family, the lake and a legacy of care and action are hallmarks of the Shonnard's life and Wally's continuing legacy.
---
Advertisements
Search our Archives