Main Sections
Front Page
Sports
Valley Vitals
It's in the Stars
Starwise
Archives
Links
About The Voice
Contact Us
The New Shorewell Community Health Center Is Now Open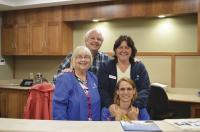 photo by Cheryl White

Pictured above on opening day, June 1, 2015, left to right front are Judy Sperry RN, Margaret Korda, LPN. Back: Dr. Allan Curtiss,MD and June Sunderland Receptionist/AEMT.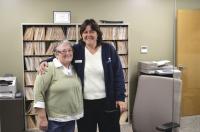 photo by Cheryl White

The Shorewell community Health Center welcomes their first patient, Debbie Griffin, pictured here with June Sunderland,receptionist at the new facility.



photo by Cheryl White

Dr. Allan Curtiss in his new Shorewell Community Health Center office.
Tuesday June 9, 2015
By Cheryl White
A dream has come true for the doctor, staff and patients at the Shorewell Clinic in Shoreham Vermont.
The popular Shorewell Clinic which was the victim of a devastating fire in April of 2010, was then relocated to the former Dewitt Blake Insurance building and plans began for a new, state of the art, medical facility on property just south of the Shoreham Service Center on Route 22-A.
Five years have passed and a brand new health center is now a reality in Shoreham for Dr. Allan Curtiss and his loyal staff.
Dr. Curtiss' office became part of Community Health Centers of The Rutland Region in December of 2012, joining Brandon Medical Center, Castleton Family Health Center, Mettowee Valley Family Health Center, Rutland Community Health Center, CHCRR Community Dental, and CHCRR Pediatrics.
The spacious and sparkling new facility which was funded in part by a HRSA (Health Resource Service Association) Grant, approved in April of 2012. They welcomed their first patient on Monday, June 1, 2015.
The community is excited about the future of health care here and that excitement is well founded. Dr. Curtiss and his staff of Margaret Korda, LPN, Judith Sperry, RN, and June Sunderland, Receptionist and AEMT have been treating patients in Shoreham as a team for many years. Patients are treated like family.
A new nurse practitioner is expected to join the team soon. The facility will soon offer a new full service dental program. A dentist and dental hygienist will be available to serve patients needs. The future plans now in the works also include a mental health services component at the new location.
Asked about the newly completed project, Dr. Curtiss was pleased and optimistic as ever. "This is wonderful for the community, 25 years and we are open," he said.


---
Advertisements
Search our Archives