Main Sections
Front Page
Sports
Valley Vitals
It's in the Stars
Starwise
Archives
Links
About The Voice
Contact Us
Celebrating 10 Years And Counting At DPI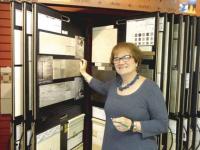 photo by Mike Cameron
Tuesday June 2, 2015
By Mike Cameron
As a successful business owner and entrepreneur, Connie Carroll has seen some remarkable changes in the ways that people create their living and work spaces.
Our surroundings are important, very important. The environment, the vision we choose for our home-life or business-lifestyle can naturally play a larger role in how we think, work and live.
Colors, textures, lighting, shading and other factors evolve into play. The possibilities are endless and they can be confusing because there is ultimately an important decision that has to be made.
Planning and preparation is the key and Connie is the right person to assist you in putting your vision in motion. Connie has always had a knack for making such visions a reality. She has been doing it successfully for years both as an employee and as a business leader.
Connie is the owner of DPI here in Middlebury. DPI stands for Distinctive Paint and Interiors and as the name indicates, the business under Connie's management is involved with just about every facet of home décor imaginable. Connie started the paint and decorating store from scratch after buying out Pratt's (Distinctive Tile) shortly thereafter. This is only the very beginning of the DPI story however.
Connie remembers a "watershed moment," for her, when, as a talented and experienced fifty year old, she decided to take her employee experience, add a college degree in design and another in business, then take the plunge into starting her own business. "I had been at Phinney's for many years. That gave me product experience and experience working with customers. I always loved interior decorating and design. I had a flair for the work and wanted to have my own business."
Connie was able to realize her dream by planning her work well and carefully working her plan. DPI began in 2005 and will celebrate its 10th Anniversary on June 1st of this year. "We started out with that section of the store in 05," Connie remembers, pointing to her left and today even an untrained eye can tell that the store has almost tripled in size and then some.
One of her store brochures notes: Connie, design specialist. It could also indicate "boundless enthusiasm," without being far fetched.
DPI Customers will find a full service, paint and interior design service always looking to satisfy their individual needs with quality products, materials and sundries. Developing the right look for you takes talent and experience.
"Yes I will make house calls," Connie says with her classic smile. People need to know what is available to them and how we can put together a design plan by pulling products and instillation resources together for them at an affordable price. It also has to fit their budget, she explained further.
DPI is proud to be a distributor of California Paint for example. The company has been around since 1929, and yes is has a California connection. It also has had an east coast connection in Andover Massachusetts. California Paint also has a penchant for Green manufacturing and features Green ingredients including calcium carbonate from OMYA right here in Middlebury!
Window treatments both hard and soft is a DPI specialty. From Rods and Shades to Fabrics with colors and patterns of every imaginable dimension. Yes they can always customize. Your vision plus their skills and products.....it's the beginning of a great look for your home or business.
Porcelain and Ceramic tile is also growing in popularity every year. It's the fastest growing segment of the decorating field. Connie and her staff are aware of the new trends and technology and the looks are fabulous. "It's important for our customers to know that we stay as local as local gets, including our work-room connection," she explained. Experience has taught her that no two jobs are alike. The process is always very personal.
And what about the future of DPI after ten years and counting? Here comes the smile again, "I'm still passionate about what I do. I enjoy working with the customers, the staff, the suppliers and the installers. I'm lucky to be doing what I love to do," she says and just then... her cell phone rings and our lively and informative, conversation concludes.
But that conversation is available to continue with each of you when you visit DPI here in Middlebury during their 10th Anniversary. You will find them at 1396 Rte.7 So. Middlebury. In the book at (802)388-2500 and on the web at www.distinctivepaintvt.net.
---
Advertisements
Search our Archives