Main Sections
Front Page
Sports
Valley Vitals
It's in the Stars
Starwise
Archives
Links
About The Voice
Contact Us
Ron White A Winner Forever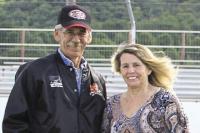 photo by Photo Provided

Ron White and his life long partner Debby Eddy At Devil's Bowl Speedway.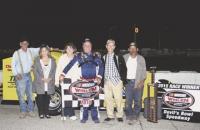 photo by Photo Provided

Ron Proctor driver and pit crew of #27 after the recent win at Devil's Bowl.
Tuesday May 19, 2015
By Mike Cameron
You didn't have to be around Ron White very long to realize what and who he loved. Ron loved his family, family gatherings, and his racing family.
Ron White left us suddenly last week when he suffered what appears to have been a fatal heart attack. Both of his families were stunned by his sudden and untimely passing.
Ron and all of us who knew him were riding the crest of an opening week win by a great crew chief and co-owner of #27 Modified driven by long time friend and talented veteran driver Ron Proctor at Devils Bowl Speedway in West Haven. It was a remarkable win in many ways and would set the pace for 2015. It still can.
Auto racing is about families, from ownership of speedways and their employees, mechanics, sponsors, drivers and fans. The common bond is racing. Ron White loved it all, and he made his special mark in the Vermont racing community.
Nice guys do finish first, and as was stated on the Devil's Bowl facebook page last week, "They don't make em any nicer than Ron." He is going to be missed in his chosen sport and in his community.
Ron now will join in a reunion of Devil's Bowl fan favorites who can no longer be seen in the pits, turning a wrench, negotiating a sponsorship, taking a victory lap, shrugging off a tough loss, or signing an autograph for a kid just like we all once were. But I can't help but think that Ron will always still be there every single summer racing season, as long as there is a Devils Bowl.
When I hear the roar of a modified stock car engine. I will always see Ron White smile. For those fortunate enough to have known him, especially those closest to him, sharing this thought with each of you is meant to help ease some of the pain associated with fathoming Ron White's sudden and unexpected death.
The Valley Voice extends to each of you our most sincere condolence. Ron will always be remembered and never forgotten. Our special thoughts and prayers are with each of you.


---
Advertisements
Search our Archives