Main Sections
Front Page
Sports
Valley Vitals
It's in the Stars
Starwise
Archives
Links
About The Voice
Contact Us
Bristol Company Producing Reusable Natural Food Storage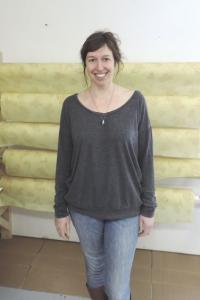 photo by Chris LaFoy

Sarah Kaeck, founder of Bee's Wrap.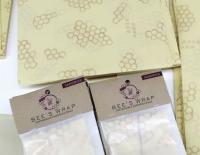 photo by Chris LaFoy
Tuesday March 31, 2015
By Chris LaFoy
Tucked between the mountains and the New Haven River, the newest home of Bee's Wrap is now in Bristol. This manufacturer of reusable, organic food storage wraps was founded by Sarah Kaeck.
Kaeck, a mother of three, moved her family company from her home in New Haven in order to meet growing demand for her products. Currently, Bee's Wrap employs four full-time workers and a part-time graphic designer.
The first store to carry Bee's Wrap was Clementine in Middlebury. Emily Blistein, owner and founder of Clementine, has supported Bee's Wrap not only by carrying the products in her store, but she also has taken all of the photographs for
Kaeck's wraps are made from an organic fabric infused with a combination of beeswax, tree resin and jojoba oil. The result is a slightly stiffer wrap that becomes pliable from the warmth of hands. The wrap can store a variety of foods, including fruits, vegetables, cheeses and breads.
"Bee's Wrap is a plastic wrap alternative for food storage," said Kaeck. "It's also reusable, you just wash it off with soap and cool water.
Bee's Wraps were a result of Kaeck's desire to conserve food produced on her family's land, and her concern for the environment. The final product is not only reusable for about one year, but it's also biodegradable. The company takes great measures to be environmentally conscious, and is always striving to do more.
The latest product to be released is a sandwich wrap. Using the same material as the other wraps, this has a wooden button and string that secures the package. Other upcoming releases will include two different prints, and new colors.
"We have two new prints coming out in May that we're very excited about," said Kaeck, "there will be a geometric print and one with clovers."
Check out Bee's Wrap at www.BeesWrap.com.


---
Advertisements
Search our Archives