Main Sections
Front Page
Sports
Valley Vitals
It's in the Stars
Starwise
Archives
Links
About The Voice
Contact Us
Going With The Grain: Young Couple Builds Their Own Furniture For Their Home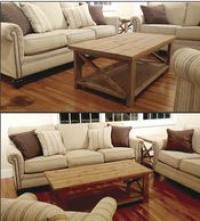 photo by Photo Provided

Handmade Rustic coffee table based off of an Ana White design, still needs a light sand and finish coat of polyurethane.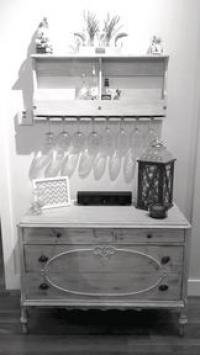 photo provided

Handmade Wine and Stemware rack and refinished antique dresser by Majken's father, Mike Thomas (this piece was used in Majken & Josh's wedding as a candybar)
Tuesday March 3, 2015
By Cookie Steponaitis
When Majken and Josh Poley got married and bought their first home, the list of things to do included designing and creating their own look for their home. Majken grew up with a father in carpentry and graduated from college with an architectural engineering degree. Majken has always been artistic and fascinated with woodworking and design. Her husband Josh enjoys working with his hands and since the pair now had a home with space to fill, the project became to identify, plan and create the furniture that would be the centerpieces of their life together.
"We look at it in a couple of ways," shared the Poleys. "It's a cost savings, it gives us the opportunity to exercise our creative minds and it allows us to spend time together. We gather our ideas from various blogs such as Ana White, Pinterest, Facebook, Magazines and others. Some things we have done are designs of our own, such as built in closets and variations of pieces we see elsewhere." The pair plans and draws out their designs first which makes the process go more smoothly. As they discuss the piece they are shaping on paper, the design takes on their own flair and own problem solving around any foreseeable design issues. "It is much easier to erase a pencil line then fix a wrong cut!" grins Majken. "We work with all kinds of wood; however I am a big fan of rustic pieces so the majority of our work uses pine."
The couple is currently looking at a rather ambitious project of a large farmhouse dining table with matching bench on one side and antique chairs on the other. The piece will have generous dimensions and antiqued white legs with a darker wood top. And they are also planning the creation of a bedroom set that retails in a current catalog for over seven thousand dollars. There is little doubt that the finished project will reflect hundreds of hours but financially the pair will have spent less than one-third of the sale price.
The Poley's suggest it is best to start small. "Check out blogs and choose something simple and with written directions, instructions and plans," concluded Majken. "Do a nice side table, something with a top, four legs and not a lot of parts and you can work on making everything square and level. Work your way up and most of all, take your time!" While the couple has some impressive end products to share with the readers, for both Josh and Majken it is the process that is the joy. Time spent together designing and creating pieces for their home is a lot of work but it brings a lot of laughter, fun and time together. The couple now owns their own tools but started out borrowing tools and also suggests looking into sales for nice second hand furniture that can be refurbished. The pair laughs together at their mistakes, have fun and cherish what they make for it holds memories even before it becomes a part of the household for use.
It is refreshing to see in a world that buys and throws away items the Poleys in action and witness not only a love of wood and creative design, but a young couple devoted to making their home reflect them as a couple and creating the look together. And while not every piece comes out perfect the Poleys encourage anyone interested to give it a try and promise that the journey is as much fun as the results are a pleasure for time to come.
---
Advertisements
Search our Archives