Main Sections
Front Page
Sports
Valley Vitals
It's in the Stars
Starwise
Archives
Links
About The Voice
Contact Us
Denecker Chevrolet Expands to Middlebury While Retaining Little City Home Base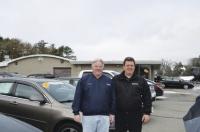 photo by Cheryl White

The arrival of Denecker Chevolet to Middlebury makes three family owned car dealerships for Addison County residents to shop with. Denecker Motors in Vergennes is still open on Main Street where it has been since 1991 and offers full service and sales as well!
Tuesday January 6, 2015
By Cookie Steponaitis
Tom Denecker started in the automotive business like many American teenagers who came of age in the early 1970's. He worked pumping gas at an Esso Station in Valley Stream, New York and found himself changing tires, learning about oil changes and pretty soon was balancing school, sports and a job as a mechanic. Tom was the youngest of four boys in a family of six siblings with a father who was a Navy man with a mechanical background. "Our garage had a pit in it," reminisced Tom. "You could actually crawl under the car and work on it while someone was working up top at the same time. We pulled engines out and basically we were a family of motor heads."
Tom developed his passion for sales while attending college for management and honed his skills selling advertising. "I got my first job," shared Tom, "because my brother was actually working for the same National Merchandising Company. I sold plastic covers for phone books in Ohio." But Tom was feeling a need to return home and answered an ad by Buick who was interviewing sales people in his home area and was trying a revolutionary new approach. The corporate office decided that instead of each dealership interviewing and hiring their sales staff it would create a salesperson training program. Tom and other candidates were taken to Westchester, New York, toured the headquarters and he began working at Warren Buick in Rockville Centre, NY in 1974. On his first day Tom was taken aside by the older senior salesman who, 'chomping' on his big cigar, proceeded to give the new rookie the lay of the land. "Kid, there are two rules you need to know," stated the old timer. "First never think you will own your own dealership. The only way you get a dealership is to marry the boss's daughter and this one is ugly. Second, never take away my customers because I will get them back and get you back too." Tom stopped for a minute and grinned, "Within a few months I was his manager, but I learned a great deal from that experience and about how to work with people."
Tom Denecker has witnessed some of the best and worst in the automobile industry, its rebirth and renaissance since his April 5th, 1991 purchase of Miller Chevrolet and the birth of Denecker Chevrolet in Vergennes. Denecker feels that while change is continual there are two constants that never change. "First and foremost you sell yourself and secondly you sell cars. It is the connection and relationships that matter and stand the test of time." When Tom started his own dealership on his birthday in 1991 no one could have made him believe he would see a time when car companies would file for bankruptcy or go out of business. The America of his youth linked the auto industry with America's economy and like all dealership owners, the point of no return came in 2009 when people were waiting for the Fed Ex trucks to deliver a letter telling which businesses were being closed and would stay open. Denecker's Chevrolet new showroom was built in 2008 at the corner of Monkton Road and Route 7 and Tom realized he could have been one of the 4,000 dealerships closed nationwide. His dealership stats were great since he was number one in the state for efficiency and sold more cars, more extended warranties and used cars than others, but it was not until the letter came that he knew for sure that he would be in business.
Recently it was announced locally that Tom and business partner Mike Capra had purchased Shea Motors in Middlebury, Vermont and questions were asked about why, what it meant to local customers and why 2014 seemed time for yet another major change. What many are not aware of is Denecker and Capra had been looking at a change from May 2013-October 2014 and been involved with the Town of Ferrisburgh to purchase a thirty-four acre parcel located at the corner of Route 7 and 22A. But after a lengthy and costly process involving Vermont's ACT 250 and new 9-L criteria, the deal was not able to be completed and ended October 2014.
It was this month when the longtime owner of Shea Motors decided to retire that General Motors made Tom and Mike aware of the property in Middlebury becoming available and exercising the first right of refusal, General Motors offered the property to Tom and Mike in early December. The closing was December 12th and the business moved sixty-five cars to the Middlebury location for the opening December 13th and eighty more followed the next day. At the close of this year there are 200 vehicles on the lot. There are two full-fledged dealerships; Denecker Motors in Vergennes on Main Street providing service, parts, pre-owned vehicle sales and all the hallmarks longtime residents have come to expect and Denecker Chevrolet on Route 7 South in Middlebury, a full service dealership joining other long time family owned dealerships in Middlebury.
"Three family owned dealerships in Middlebury is a great thing for the people of Vermont," shared Tom Denecker. "People are free to choose service and sales in either location. Many of our customers in the northern part of the state will still continue to come to the Vergennes location and many of our customers from the southern parts of the region will now have Middlebury as a choice location as well." Denecker went on to explain that service at both locations is still the hallmark of his business and people will find no difference in the people, services and care.
And with gasoline prices low, lower interest rates and the average vehicle in America having been on the road for 11.5 years, Tom Denecker is not only optimistic about 2015 but the future of the automobile business in general. "It has been quite a ride," stated Tom Denecker. "The best thing is that even knowing what I know now, I would go back and do it all over again. I have the same enthusiasm and passion that I did when I opened the door on Main Street in 1991 on my birthday and went into business. It is very important for people to understand that I am not leaving Vergennes. I am adding a new location and will have more selection for people to see. With Chevrolet dealerships on the Route 7 corridor from St. Albans to the southern part of the state, Vermonters have choice and value." Rooted in his Vergennes dealership and excited about his expansion to Middlebury Tom Denecker is an anchor business with longevity in serving the people of Addison County. His resolute faith and passion for the people and way of life of Addison County make it not only his home but his place of work and now one of expansion.

---
Advertisements
Search our Archives