Main Sections
Front Page
Sports
Valley Vitals
It's in the Stars
Starwise
Archives
Links
About The Voice
Contact Us
Champlain Valley Equipment And Addison County Transit Resources Receive Awards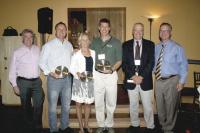 photo by Photo Provided
Tuesday September 16, 2014
The Addison County Chamber of Commerce recognized a local business, organization, and individual with annual awards during the its annual meeting held at Café Provence in Brandon. Three awards were presented in front of a crowd of nearly 80 attendees which included Chamber members and local business people.
In addition to the award presentations, it was announced that the Chamber's current president, Andy Mayer, is leaving his position at the end of September to become the president/CEO of a chamber in Washington state. Andy has led the Addison County Chamber since 2007 and is relocating to be closer to his and his wife's families. Sue Hoxie, marketing & communications director, has been named interim president.
Champlain Valley Equipment, located in Middlebury, was presented with the 2014 Business of the Year Award which recognizes businesses that have grown, sometimes despite adversity, while providing excellent products or service while doing well by their employees and the community.
Champlain Valley Equipment is a family-owned business that has grown from one location, started in Middlebury in 1970, to now having four additional locations (Derby, St. Albans, Berlin, and East Randolph) and employs nearly 100 people. They are known for their excellent customer service and their ties to the areas they serve. Company President Brian Carpenter is also known for having recently retired from his service as Brigadier General (2-Star) of the Vermont Army National Guard.
The company recently completed an expansion of its showroom in Middlebury and survived a fire at its warehouse. Unbeknownst to many and showing the company's commitment to the region, it supported Addison County residents by funding ACTR bus service to this August's Addison County Fair & Field Days. According to the award nominator, "Champlain Valley Equipment saved the free bus to the fair which was in danger of being cut, and Brian Carpenter of Champlain Valley Equipment stepped in to underwrite the entire operating cost."
In addition to the Business of the Year award, the Addison County Chamber presented its 2014 Buster Brush Citizen of the Year Award to Nancy Malcolm who exemplifies the criteria for which the award is given—a history of getting things done to make the community better in a variety of ways, with no intention of personal reward or recognition.
Nancy has been involved with the United Way of Addison County (former board chair), Porter Medical Center Auxiliary (past president), Frog Hollow Arts Center (former board member), Addison Respite Care Home (board member), the county's Guardian Ad Litem program, and the building committees for both Middlebury Union High School and Middlebury Union Middle School. She also chaired the Middlebury Area Creative Economy Group, which led to the Green Energy Expo and the Middlebury Arts Walk.
Nancy played a vital role in the development of Middlebury's new Riverfront Park, including fundraising and leading the volunteer effort to plant the rain garden. She also spearheaded the successful effort to get the Middlebury town office proposal passed. Finally, Nancy is the current chair of Middlebury's Planning Commission.
The Chamber's Community Achievement Award is given to a non-profit organization that provides a significant and sustained contribution to the wellbeing of the area. This year's award was presented to Addison County Transit Resources (ACTR) and accepted by Jim Moulton, executive director, and Dean George, board chair. Since 1992 ACTR has grown tremendously in its ability to serve the people of Addison County. In its own words, they are "There When it Matters." ACTR helps people get where they need to go whether it's work, shopping, medical appointments, school, play, and much more.
ACTR continues to grow however people need them. They are clearly in tune with the transportation needs of Addison County. Whether one has no other way to get around or has sensibly chooses to use public transportation, ACTR's routes and special services like Dial-a-ride are in place.
With their new facility ACTR is able to operate even more efficiently. That is true in two ways—the building is an outstanding example of energy efficiency, in keeping with the organization's principles but it also allows for more efficiency in operation, in that the busses can be more easily maintained now that there is space to do so. Jim Moulton's skills in efficiency and managerial excellence have been recognized and he is currently doing double duty by helping another transit system, Stagecoach Transportation Services which serves Orange and Northern Windsor counties, get back on its feet.


---
Advertisements
Search our Archives