Main Sections
Front Page
Sports
Valley Vitals
It's in the Stars
Starwise
Archives
Links
About The Voice
Contact Us
New Artist Set To Debut In Frog Hollow Alley In Middlebury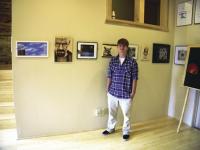 photo provided

Standing at his gallery site in Middlebury, Dustin Dattilio is showcasing his art and launching a career with his opening on July 11th!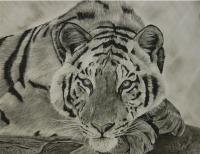 photo provided

Bengal Tiger- Charcoal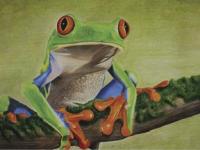 photo provided

Red Eyed Tree Frog - Colored Pencils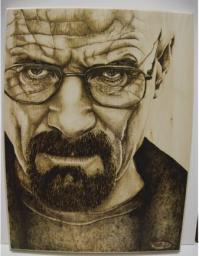 photo provided

Walter White - Wood Burning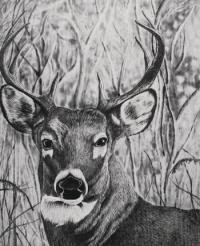 photo provided

Whitetail Deer- Wood Burning/Colored Pencil
Tuesday July 15, 2014
By Cookie Steponaitis
Dustin Dattilio has a smile that simply never dims and an aura of calm patience that moves through life with him. He instantly puts people at ease with his openness and friendly disposition and many of his former teachers comment that he possesses an "old soul" that makes him often seem settled. However, put a pencil, paintbrush, ballpoint pen or airbrush in his hands and Dustin Dattilio transports you into a world where whimsy, passion and form take on a life of their own. Dustin Dattilio is tuned into the world of art and throughout elementary and high school was always interested in drawing, but admits he did not take it seriously until the end of his freshman year of college.
"It's really hard to select one specific person that got me started," reflected Dattilio. "There are several people who have kept me going to the point that I am at now. Being around my grandparents is probably why I started creating art. My grandparents are very artistic. My grandmother is good at drawing and my grandfather is an amazing wood carver. My art teachers from high school also kept me interested in continuing art up until I graduated. Once I started at Castleton State College originally for Health Science, I started taking art courses and the professors there really encouraged me to continue with art." Dattilio gets his inspirations from all over and often even sees something while driving that prompts him to create. Some ideas come from talking to other people and still more from seeing other artist's work and becoming motivated to create something new. Even his own hunting experiences have provided the young artist with inspiration when it comes to his wildlife artwork.
While Dattilio loves all the mediums he uses he is most at home with pencil, charcoal, painting, wood burning and airbrushing. While he would love to have a career in art the young Addison County artist realizes that it is not an easy career path but he is moving forward with his goal. "I have been given an amazing opportunity to open a studio and gallery in Middlebury at 2 Frog Hollow Alley, Middlebury, VT, 05753," shared Dattilio with excitement. "I am hoping to have it opened within the next week or two! I will have all of my work on display there. You can also visit my Facebook page:
www.Facebook.com/DustinDattilioArt .
If you are interested in having something done please visit the Middlebury location or email me at Dustin.Dattilio@Castleton.edu."
Art for Dustin Dattilio is, "a way of expressing yourself and making your thoughts or ideas come to life," and in his work there is a vibrancy and vitality that draws this reporter in. So stop on by in the next couple of weeks to see the creativity and passion of yet another very talented Addison County young person who is putting his dreams not on hold but in motion. "Right now my goals for art are to continue creating and doing commissioned pieces in hopes of getting my name and artwork better known," expressed Dattilio. "I am working hard to get the Middlebury studio and gallery ready and we'll see where it goes from there." The Valley Voice salutes and celebrates the passion and talents of our Addison County young people and wishes all the best for a bright future and career to Dustin Dattilio.
---
Advertisements
Search our Archives