Main Sections
Front Page
Sports
Valley Vitals
It's in the Stars
Starwise
Archives
Links
About The Voice
Contact Us
Change Looms On The Horizon For Local Business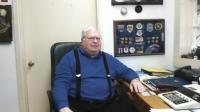 photo provided

Looking forward with interest to the new chapter for Bub's Barn, while for now it is still business as usual!
Tuesday April 15, 2014
While presently it is business as usual at Bub's Barn, change is on the horizon. The stately red barn with the gambrel roof has been a consistent landmark in our community for as long as many of us can remember, and has occupied a part of the agricultural and retail business life in Vergennes for over 82 years.
The barn was purchased in 1949 by the Crosby Family, and served as the home of Vergennes Livestock Commission Sales and the Crosby dairy farm until 1986. In 1989, Bub and Meg renovated the barn into retail space, and have, for the past 25 years operated Bub's Barn -- Quality Home Furnishings. In a recent interview, they both reflected that the most rewarding aspect of their endeavor has been to to getting to know all of their customers and assisting them in meeting their furniture needs. Also, very close to Bub and Meg's heart is supporting community needs and fundraisers.
The Crosby's, who are now looking forward to retirement, have recently made the decision to look for a new owner and have decided to offer their barn for sale -- the first time that it has been available for 65 years -- and have listed the real estate with Lang Real Estate. The Crosby family see for the new buyer or buyers a huge potential with their property with includes 16,450 square feet, municipal water and sewer located on 5 commercially zoned acres. Bub reflected that Vermont business people adapt to changing environments and economies, and the opportunities presented by the barn and acreage will provide a unique setting to allow just this flexibility.
For the time being, Bub's Barn is continuing on its present course as it has over the past 25 years -- offering quality products and home town service to their many customers. Bub, Meg and the long time staff, Scott, Shawn, and Belinda look forward to your visit.

---
Advertisements
Search our Archives