Main Sections
Front Page
Sports
Valley Vitals
It's in the Stars
Starwise
Archives
Links
About The Voice
Contact Us
A House Built Of Love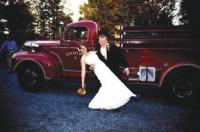 photo by Photo Provided

Taking their vows on their wedding day, the Crowley's used VFD Engine # 1 to honor their commitment to each other and friend and mentor Ray Davison to start their married life together.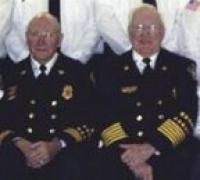 photo by Photo Provided

Seen here with Local fire chief and legend Ralph Jackman, Ray Davison showed his continual devotion to the Fire Services and to those who work in it. Even after his death, his legacy of love continues to inspire others.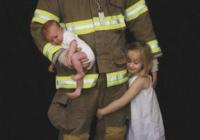 photo by Photo Provided

Family is the bond that links generations and in this Valentine's Day story continues to bless Matt & Heather Crowley and their children.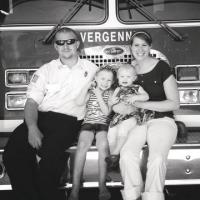 photo by Photo Provided

The Crowley family today includes Matt, Heather and daughters Clara and Ila. The Valley Voice salutes the Crowley family and the unique story that links them to generations past and service now and for the future.
Tuesday February 11, 2014
By Cookie Steponaitis
Love comes in many hues, shapes and forms. Some love is brilliant and luminescent in intensity and burns deep for a time. Some love is quieter, like the flame of a banked campfire, whose embers glow long into the coldness and darkness of a night. Even more special is a love that is set in motion by one, to be felt and accepted by generations to follow, touching lives, sparking interest, and creating bonds that link generations in service. One such Vermont love story begins with a civic minded man named Ray Davison. Ray Davison joined the ranks of Addison County educators as an agricultural teacher in 1953.
During his tenure in education Ray served as Guidance Director, guidance counselor, assistant Superintendent, Superintendent and coach. While teaching and leading schools, Ray also served as deputy game warden, police officer, security officer and countless other civic positions. However, it would be the fire services that would define Ray Davison the most and set in motion the story of love and support that involves three generations. Ray joined the Vergennes Fire Department in 1958 at the advice of a good friend Captain Ken Barney who joked with him, "If you are going to chase fire trucks all the time, you might as well become one of us." Ray's first official day of fire service was the famed Vergennes Fire of 1958, where the town lost half of a city block and nine departments tried to keep up with the blaze. It was that opening experience what propelled Davison not only into a lifetime of fire service, but to be one of the key leaders in changing the science behind firefighting and revolutionizing how it was done. For forty-five years Ray Davison served quietly and wanted nothing in return.
When Ray Davison died unexpectedly on Christmas Eve of 2004, his funeral was attended by 1400 fire fighters from five states and Quebec. One of the speakers that day, retired chief of Bristol Fire Department Mark Bouvier remarked, "No better tribute could be given to this man than to continue to reflect those same principles of teaching of Ray in our personal and professional lives." At that time, little did anyone know how true it would be and how Ray Davison's love of people and life would reach into the lives of others. To members of the firefighting community, Ray Davison defines the essence of community spirit, dedication and quiet and fierce love of brother fire fighters and his community. Woven into his life are the path of others, who are forever bonded in love for each other and the man who to this day leaves behind a legacy of love and an example to follow.
Matt Crowley and his wife Heather (Reynolds) Crowley met in the summer of 2003 in Pittsford, Vermont at the Vermont Cadet Academy. Posing together for the Addison County group photo on a ferry ride, Heather, being the only female in the group found herself hoisted up on the shoulders of her male companions. Holding her hand to steady her was Matt Crowley. "I remember the jokes he was telling me then," laughed Heather. "At the time I remember thinking this was definitely another side of the normally very different man I saw." Not crossing paths again until Ray Davison's funeral in 2004, the pair was a part of the long, cold and emotional day that bid farewell to a friend and mentor. At a small gathering at Heather's home that evening, Matt came, having never been to the house before. While the two would both consider the courtship a long and rocky road, it was through that gathering that the relationship began. Engaged in 2008, the couple had their first daughter Ila. Married in 2010, the Crowley family welcomed their second daughter Clara in 2012.
Today, fire and rescue are still very much a part of the lives of the young family and so are the teachings of Davison. Heather served on Charlotte rescue for five years as an EMT and the Ferrisburgh Fire Department for ten years. Matt has been a member of the Vergennes Fire Department for twelve years and is now one of the youngest captains in the history of the department. While Heather currently does not serve, the reasons are simple and precious. "Once the children came, the answer is simple, "shared Heather. "We both can't go. Now that we have little ones." Both Crowley's share not only a love of each other and the fire service, but a deep devotion to the man who they feel was instrumental in bringing them together. "I met Ray in 1999 when I joined the fire service," remarked Heather. " My mom was very active on the fire dept as well as the Addison county firefighters association (ACFA) so I was her tag along and saw him at tons of events and meetings. I even remember going to the house once to drop off paperwork. I got to know him better when I was involved with the cadet academy from 2001-2004. Matt has basically known Ray his whole life. When your born to a parent that's a firefighter you start your life born into the fire service, whether you join later in life or not (luckily for me, Matt did)."
While the couple feels that they owe Ray and the Fire Service for bringing to two together, their appreciation for Davison's gifts goes even farther. Matt shared at length about the lessons learned from Ray about training, staying sharp with your skills, and the role each person plays not only in fighting fires, but in serving as a member of a brotherhood.
As Valentine's Day approaches and once again the attention of the world turns to the mystical and often magical images of love across the world, both Crowley's acknowledge that love is really work. "It's not easy, it's not always happy. It takes real work from both parties to be successful," reflect Heather Crowley. "I credit communication, compromise and sacrifice, to our success as a couple. Taking time to have fun together without kids is essential. Keeping our relationship our first priority makes us stronger and lets us tackle life easier as a team. Make sure to always appreciate your partner and learn from your mistakes." As new home owners, the Crowley's feel blessed to have a new home and feel a special link to both their home and its former resident. The Crowley's purchased a home that has special meaning to not only them, but the countless generations of fire fighters who came over for coffee, stopped by for a visit, or shared an evening of camaraderie, for the Crowley's new home belonged until now to their former mentor and friend Ray Davison. The circle of love is once again complete and across a generation has come a message of love, commitment and strength, including a strength of character and strength of spirit.
The Valley Voice salutes all of the Ray Davison's in our lives who reach out, plant a seed, start a spark and then find a way to impact lives with love beyond their years on earth. Ray Davison's legacy continues on today through seeds he planted and the efforts of Bill Scott who created the Ray Davison Foundation. Bill remarked, "It was remarkable how we were able to find this wonderful young couple to take our place in his home to carry on the legacy. We were so glad to help them get started with all the memories they have of him. It's an ideal time to celebrate Ray since his birthday 2/15/30 is so close to Valentines Day and he touched so many lives." For all those who wave their own special wand of love, enjoy Valentine's Day not only now, but the year round for love truly never does die, it is always there waiting and ready to serve.
---
Advertisements
Search our Archives