Main Sections
Front Page
Sports
Valley Vitals
It's in the Stars
Starwise
Archives
Links
About The Voice
Contact Us
Sixty Years Strong: Sharing Memories With Liz And Daryl Lowry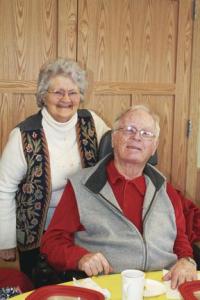 photo by Cookie Steponaitis

Sharing memories of sixty years of marriage, Daryl and Liz Lowry still hold dear the same things that brought them together years ago: family, farm, and a love of learning.
Tuesday February 4, 2014
By Cookie Steponaitis
When Daryl Lowry first saw Liz McElrea Lowry she was upside down in a tree at a 4-H event and life has never been the same since. "I knew right away," shared Daryl, "she was the girl for me." The couple married in May 1954 and to this day Liz swears her husband has been saying, "May Day, May Day," ever since. "Not exactly," quips Daryl with a straight face. "It's been more like "Yes Dear, Yes Dear."
Liz was born in Sherbrooke, Quebec and came from a long line of teachers. Her mother and four aunts were involved in education and Liz simply remembers grading papers at a young age and talking education. She was a student in a one room school and doing second grade work when she was turning six so the teacher simply put her in second grade. The love of education not only defined Liz's early life but her adult years as well. Liz's father was a farmer and worked on the railroad and each of the five siblings of the McElrea clan had their own responsibilities. "I was the main swather for the family," explained Liz. "In addition to picking up the last hay pieces on the field I cleaned the barn, fed the cows and helped out in a huge garden. With seven at every meal most of our produce was home grown." While most people would assume Liz's main language was French, her family in fact spoke only English. "When I was growing up in Canada," shared Liz, "English speaking Canadians paid taxes to Protestant Schools and French speaking Canadians paid taxes to and attended Catholic schools. It isn't like that anymore but that was the system at the time."
Daryl and Liz attended Macdonald College in Montreal and Daryl graduated with a degree in Agricultural Science and Liz graduated with a degree in teaching .The pair began their married life on a farm Daryl was managing that actually was half in Quebec and half in Derby Line, Vermont and with an average herd of sixty cows it represented the model of the family farm of the time. It was in fact the partnership of farming and teaching that eventually led the Lowry's to Addison County and the purchasing of a home in 1964.
Liz's career in education spans over forty years with both ends of the spectrum benefiting from her passion for family, reading, learning and experiencing life. Liz taught kindergarten to over two thousand students in the first twenty one years of her time in Addison County. This reporter was in her first kindergarten class in the basement of Bixby Library and readily recalls the sense of being a part of a big family and proudly standing up reading stories we had written and illustrated ourselves. Liz had an emphasis on literacy, always read to the class and had students read as well. One memorable outside excursion remembered by both teacher and student involved learning about gravity by hiking up Buck Mountain. "There was a place on the trail," recollected Liz, "where you could have the student stand and they could feel gravity pulling them. I had each student take their turn and to see their face was just priceless."
Liz was an educator who would always champion the underdog and spent the second twenty plus years of her career teaching adult education and GED classes to students at Northlands Job Corp. "That is where the team model really shone through," reflected Liz. "I worked with the Auto Teacher, the Center Director and all of the different departments. If we saw a teen slipping or not performing we brought them in for extra help. Each class and each day brought different challenges. The trick was to find the leadership potential in each teen or child. Each person has it and it has to be mentored and encouraged."
While Liz was immersed in education Daryl was involved in a career in agriculture and farming spanning the same forty plus years. Daryl, when not working on or running farms moved into the supervisory role of the Extension Service of the University of Vermont and administered the program for years. "He won't brag," added Liz, "but there is a plaque in our living room that says he ran the best extension program in thirteen states. I remember one farmer he worked with especially who was injured in a horse team accident and became a paraplegic. Daryl worked with him and he continued to drive tractor and was able to farm. One night we got a call from this man who had moved to Mississippi and his caregiver had just left to return to the northeast and he was all alone. Daryl was on the phone and networking with farmers in Arkansas and Missouri and by nightfall a new farm worker was on site and helping."
Daryl has positive feelings about the future of agriculture in the Green Mountain State and remarked, "There will always be a major dairy component in Addison County, but even the large farms will have to diversify to be successful." Daryl does feel that the close knit networking of small farms is something lost to many of the new generation of farmers coming of age. Daryl is writing a book in his spare time on the history of the family farms and is hoping to go to print this year. Daughter S serves as his editor in chief.
While the Lowry's are retired now there is little to show that slowing down is in the cards and with children Ross, Debbie, Sheryl, Lawrence, Phyllis, Bruce, ten grandchildren and sixteen great-grandchildren, Liz still finds time to tutor at her home and pass onto the next generation that love of reading, sense of wonder at learning and keeping it fresh and fun. "Sometimes I tutor teens for the ASVABs also," Liz added.
And, for those couples looking for the recipe to longevity in marriage the Lowry's have no magic pill to offer but perhaps a word to the wise. Rooted in a love of the land, family and learning both saw in each other partners headed in life in a shared direction and with a commitment to grow and change as their family did. "We both have so much more we want to do," concluded the couple. The Valley Voice salutes the Lowry's for being examples of what makes Addison County a place so many are proud to call home. And onward to the sixtieth celebration and more adventures.


---
Advertisements
Search our Archives