Main Sections
Front Page
Sports
Valley Vitals
It's in the Stars
Starwise
Archives
Links
About The Voice
Contact Us
Addison County Firefighters Association Looks To 2014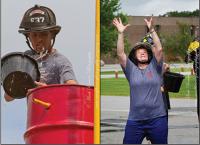 photo by Mark Bouvier

The science of fighting fires has grown to be a complex task that demands time, education and commitment from the men and women who put service above self to be firemen.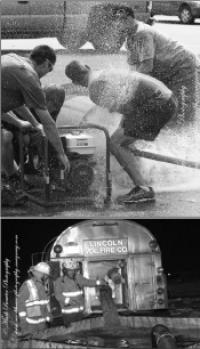 photo by Mark Bouvier

In trainings, drills and at all times of night and weather, the volunteer fire fighters keep refining their skills
Tuesday January 14, 2014
By Cookie Steponaitis
The Addison County Firefighters Association (ACFA) was created, organized and incorporated in 1944 by several local fire chiefs who had a vision for the future membership but at the time included only a few Addison County departments. And, with the creation of the Mutual Aid Agreement the ACFA agreed that all member fire departments would respond to another department's event if needed at no cost to the other towns. It is almost impossible for the average citizen to imagine the commitment and foresight the early ACFA fire chiefs had regarding the importance of being able to share equipment and manpower which establishes bonds among volunteer firefighters and links communities in training, responding and shared belief that the role of volunteer fire departments would continue to expand over time. The early leaders understood that resources would need to be shared in order to meet the increasing demands in Addison County.
Fast forward seventy plus years to 2014 and the ACFA which is a testament to the amount of changes that have occurred in techniques, training and firefighting responsibilities. Faced with a challenge of the need for manpower, ACFA president David Shaw shared that one of the main goals in 2014 for all departments is to increase membership. "It is a huge element facing every chief in the county," shared Shaw. "How do you put boots on the ground with the demand for services are ever increasing and the pool of firefighters is decreasing?" While Shaw does point to strong cadet training programs in many departments of the ACFA, he points out the same trend that many communities are seeing of young people moving out of state to find good paying jobs. "The Middlebury Department has a program involving Middlebury College students as well," shared Shaw. "But in reality the students leave after graduation and we start over with a new group. Currently we are looking for young residents who are property owners. These are people stable and rooted in the community."
Many taxpayers and citizens are unaware of the time commitment involved for firefighting training and the number of calls they respond to annually, with some departments exceeding 200 calls a year and when the data is made public it amazes voters and citizens. The ACFA recommends that all firefighters take the Firefighter 1 course which consists of between 180-200 hours of training and the ACFA also hosts a Fire School each April which is one of the highest attended in the state. Rotating between VUHS, MAUHS and MUHS the Fire School offers a weekend twelve hour certification. In addition to responding to fires, accidents and other calls, some members face the reality that their employers choose not to pay them for any hours that are missed if the call happens during a work shift. "This is a reality for many of our firefighters," remarked ACFA President Shaw. "If you have a single parent who loses two-four hours of pay it really makes them think twice about their availability to respond."
While the ACFA faces challenges shared by other first response organizations around the region there is no doubt of the closeness, camaraderie and brotherhood experienced by those who feel the call to serve in this manner. "Along with the competitive side of any organization," shared Shaw, "I have been in every fire house in the county and have always been made to feel welcome. The Fire Service truly represents a cross section of the community all working together to serve others." Shaw looks to ACFA's future with optimism, pride and a sense of anticipation that it is in it for the long haul. "One of my goals, while president was to drive the leadership age of the ACFA down and to get more youth into the organization. With new members like my vice president Brett LaRose I know this will help carry ACFA into the future."
While we sleep, work and go about our day many local departments respond to as many as 200 calls a year and are sometimes on the scene for five to six hours at a time. After midnight out of respect for neighbors, the departments do not use sirens and many people do not hear the response or register that it has occurred. The ACFA's seventeen member departments are indeed looking for new members and a future of continued leadership, pride and devotion to Addison County that began with a small group of men in 1944. On the walls of several departments is the motto "Service Above Self" which truly epitomizes the values and actions of the volunteer firefighters of Addison County. The Valley Voice salutes these people and begins its annual two week focus on those who serve in this manner and ask all of us to stop and think about how their professionalism, devotion and services impact the lives of us who call Addison County our home.

---
Advertisements
Search our Archives