Main Sections
Front Page
Sports
Valley Vitals
It's in the Stars
Starwise
Archives
Links
About The Voice
Contact Us
UPS Stores Brighten The Holidays And Gives Back To The Community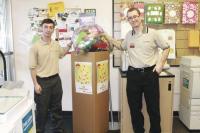 photo provided
Tuesday December 10, 2013
By Cookie Steponaitis
One memorable part of each holiday season for Middlebury UPS Store manager Joshua Sherman is the Mitten Tree Campaign held throughout the state of Vermont and parts of New Hampshire. During the holiday season and up until just past the New Year UPS stores are collection points for gifts of warmth, love and caring. Mittens, scarves and hats are dropped off by people from all walks of life and ages, making the UPS Store on 40 Court Street in Middlebury not only a hub of packaging, wrapping and shipping activity but a place where the holidays is about caring and remembering.
"Just this afternoon," shared UPS Store employee Taran Hopkins, "the door opened up and two women came in with a bag of over 100 hand knitted mittens, scarves and hats. When I thanked them for their kindness they both just smiled so big and said, 'We're happy to help'." Winter temperatures are now upon us and the cold season is settling in for the long months of cold and snow. Vermonters know hats, mittens and scarves are a necessity of life in the North Country to keep people warm and longtime patrons of the UPS Stores respond to this need annually.
"Last year we donated over 1000 items just from this store alone," shared Josh Sherman. "It makes us feel really good to be a part of giving back to the community and for people to come in and say that they have been planning on this special program all year long and getting ready." Whether is it a single pair of mittens, scarf, hat or a package of a hundred all the items go to people in need and reflect yet another reason of seeing this truly as a season of joy and giving.
Whether you want to mail that special gift, require some help wrapping or just wish to stop in and see for yourself how the Mitten Tree Program at UPS Stores around the state are brightening the season, come on by. The Middlebury UPS Store is open Monday-Friday 8 am-7 pm, Saturday, 9 am – 7pm and closed on Sunday. Drop in or even better yet drop off a set of mittens, gloves, hat or scarf. They will add joy to the season while bringing warmth to a person for more than just one day.


---
Advertisements
Search our Archives