Main Sections
Front Page
Sports
Valley Vitals
It's in the Stars
Starwise
Archives
Links
About The Voice
Contact Us
Young Artist Records Album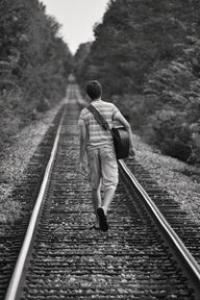 photo provided

Walking into a very bright future, Palmer is grounded in his commitment to community, music and the love of music and family.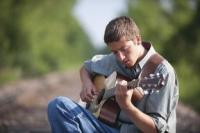 photo provided

At home in the outdoors and on his guitar, VUHS senior Matteo Palmer just released his debut CD Out of Nothing that included working with Grammy winning acoustic guitarist William Ackerman.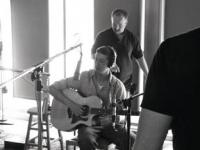 photo provided

Writing and recording his own material under the guidance of a Grammy artist took Matteo Palmer into a new level of music and sealed a passion for both that will be a part of his future past high school.
Tuesday November 26, 2013
By Cookie Steponaitis
While VUHS senior Matteo Palmer has always had a predisposition for music, it wasn't until he was in seventh grade that he started with a guitar. Releasing his first album Out of Nothing at a party being held on December 19th at the Vergennes Opera House, Matteo has not only achieved a milestone of producing his own album, but writing his own music. "I love the guitar because it is so very versatile," remarked Palmer in a recent WCAX TV interview. "It has so many different sounds. Composing is for me the way to go. I get to use my imagination. I don't hold back. The music doesn't belong to anyone else. It is mine."
Matteo's journey not only allowed him to realize a dream, but to work with a Vermont guitar master and Grammy winner William Ackerman. Ackerman is famed as not only a poet but as an award winning acoustic guitarist. When asked what he learned about himself and his craft from working with Ackerman Palmer shared, "Dig deep and that if music takes time it is ok. Nothing happens too fast." While his CD is now available in stands and on ITunes and Amazon, Palmer is looking to the future with nothing but enthusiasm and anticipation. Linked to the community and a member of the Vergennes Opera House, Palmer is donated a percentage of his proceeds towards a new sound system for the Opera House, where he serves as a member of the Board of Directors.
With no holding back and no end in sight to the creative possibilities coming from his work with his guitar, Palmer's debut CD Out of Nothing is a celebration of talent and offers the listeners a diverse compilation of Palmer's own life and activities. While this reporter loved best the piece Journey of the Wandering Minstrel, another special composition Wooded Trails captures another facet of Palmer and seems to create the imagery of running cross country through Vermont's wooded paths; all images courtesy of the mind, heart, talent and guitar of Matteo Palmer.


---
Advertisements
Search our Archives