The Business Side of Agriculture Meet Entrepreneur Ethan Gevry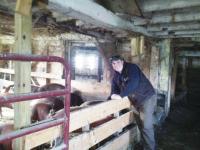 photo provided

VUHS Ethan Gevry represents the up and coming young entrepreneurs who are starting their own agricultural based business and growing their own futures.
Tuesday September 17, 2013
By Julie Grace
It is normal for most teens to have after school jobs but very few run their own business in between taking classes and doing homework.  This reporter met with Ethan Gevry on his farm to talk about his business Champlain Valley Farm and learned that he raises turkey, pigs and beef for slaughter and sells the meat. Ethan started Champlain Valley Farm five years ago with just turkeys but has expanded his business to include pigs and his newest addition beef cattle. Currently Ethan has six beef cows, fourteen pigs and fourteen turkeys. When I asked the Vergennes Union High School senior why he started Champlain Valley Farm Ethan stated that he has always wanted to run his own farm and researched what type of business would do well in Vermont. He decided on selling good quality local meet for reasonable prices.
    Ethan breeds his cattle and raises the calves for a year after which they are ready to be sold and slaughtered. His turkeys are raised and slaughtered for the holiday season right before Thanksgiving and delivered a few days after so they are fresh.  He also grows corn for feed. Ethan hopes to be self-sufficient in the future to cut costs. He manages fifty acres of which twelve are for corn and the rest for hay but has to buy his grain.
    While understanding that being in high school can take up a lot of time this reporter was curious to know how Ethan had time to be a senior and run his own business. He shared his secret explaining that one of his best tricks is to try and make all of his homework and school work relate to his business. Ethan takes business classes at the Hannaford Career Center and at Vergennes High School. He also uses English classes to write grants. Ethan gets up early everyday to do course before school then after he rushes off to work at a different barn before returning to work at his own.
    When asked to share with other teens who are interested in owning and running a small business some advice Ethan remarked, "You have to set your mind to it and never give up. If someone tells you that you can't do something smile and prove them wrong. You have to be ready to work very long hours and be smart with you money. You will need money to get started and you can't spend money on things you don't really need, and most of all, have a good work ethic."
The lessons learned down on the farm are transferred to another generation passionate about the land, agricultural business and being their own boss. The Valley Voice salutes Ethan Gevry and all the teens who take on the challenge of being an entrepreneur and learning to make their passions into their future career.
---