Tigers Face Top Foes First Two Weeks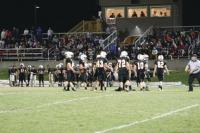 photo by Mike Cameron

MUHS Tigers always draw a big crowd. This was against B.F.A. in 2012. the new season starts Friday night 8/30/2013.
Tuesday August 27, 2013
By Mike Cameron
The MUHS Tigers varsity football team will face one of the toughest Division 1 schedules in Vermont in 2013. The first two games could be called rivalries and both will be home at Doctor Ray Collins Field. They will both feature traditionally top Vermont high school football teams in the league and are scheduled back to back for the first two weeks of the season. MUHS will play a total D-1 schedule this year.

First up will be the Hornets of Essex a team that Middlebury had on the ropes during the regular season last year, only to have the Hornets passing attack pay off at the end of the game for an Essex win. That game film will be looked at closely by the Tiger coaching staff. Pass defense vrs Essex will be a key in this first of the season encounter scheduled for Friday night, August 30th, with a 7p.m. kick off scheduled. The fans will be out in force at Doc Collins. As always the Voice will be on hand to report.
Essex will continue with their wide open run and gun offense to try and keep the Tigers off balance.
But Middlebury could have a few surprises of their own. Quickness and speed is back from last year even though size on defense could be problematic early in the year as the new guys continue to step up and for anyone who follows the Tigers you can expect that they will.

It will not get any easier the following week, with defending Division 1 Champion Hartford in town for a another championship re-match with Middlebury. These two have played some of the most memorable games in the league over the last ten years, with the Hurricanes having the best of it in the last two. Two of the Tigers all time biggest wins have been against Hartford. Middlebury never has any trouble getting ready to play this powerhouse from over the mountain.

For Tiger Head Coach Dennis Smith and his staff, the season will see their team hitting the ground running. Of course that's what the Tigers do very well indeed. They run and they defend and then they run and defend some more. Never very tricky...it just works with practice, practice, practice. Middlebury is never taken lightly. They develop quickly every year and they always seem to find a winning combination. "If you play for Middlebury you will learn how to play football," was the way the late MSJ Freshman and JV coach Jim Grady described the Tiger system a number of years ago.

Even though graduation has thinned the ranks, several key players will be expected to again bolster the MUHS fortunes for 2013. Expect names like: Robinson, Smith, Ritter, Hathaway and Felkl to see action early on and to be sure some new names will emerge as the season develops.

Middlebury is about Tiger Pride

Volunteers make it happen in a era of tight budgets and scarce funding for school extra-circular activities and Middlebury is no exception. The Friends of Middlebury Football have done a remarkable job and their in town and regional support is extraordinary. The field, bleachers, media booth and concession building are proof positive that the program is here for the long haul. As for the first two games of the season and their degree of difficulty. A long-time Tiger supporter put it this way: "Lets play the game first and we will see what happens." The only thing we can ad to that is; Is it Friday night yet?


---