Main Sections
Front Page
Sports
Valley Vitals
It's in the Stars
Starwise
Archives
Links
About The Voice
Contact Us
Tightening The Belt Was Never So Much Fun: Meet Artist Holly Weber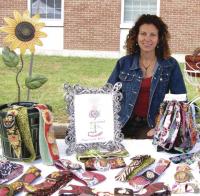 photo provided

Holly Weber brings her talants as an artist to one of the world's oldest articles of clothing - the belt.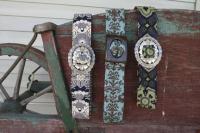 photo provided

Tightening your belt was never this much fun or fashion oriented before.
Tuesday August 13, 2013
By Cookie Steponaitis
When old timers spoke of lean times and tightening their belts it is doubtful they ever realized how much fun tightening a belt that was a work of art could be. Local artist Holly Weber has to admit that art was her window on the world from an early age. "I had an artistic brain even in grade school," shared Holly. "My written reports always had better illustrations than grammar or spelling. As a ten or twelve year old I would design shoes with straps of leather and pieces of wood. In high school I was a marginal student until I found a sewing class where I made skirts out of jeans, a bathing suit, vests and a few belts. I created a wrap belt that would tie back over itself in the front and also D-Ring style belts. My interest in belts stems from the fact that I was a very skinny kid and I had a need for a fun and functional belt. After high school I designed sweatshirts with appliqué's and stitching, back when that was the thing to wear."

While Weber obviously did not invent the belt she feels that her belts appeal to both the practical and fun side of people. "My interest in fashion is something I do not think about, it is just there every day when I wake up," reflected the Addison County artist. "Not everyone feels the same way when they get out of bed in the morning. Sometimes you just want to throw on your T-shirt and jeans and just go, but you feel like you should look a little more put together."

Weber designs using different themes that include nautical, automotive, boating and camping along with inspiring patterns and colors from fabric designers like Amy Butler and Robert Kaufman. Jennifer Hatch is Weber's true friend and assists with all the processes of her business. While looking for a name that added pizzazz but expressed the functionality and artistic side of her creations, Weber's brother, who is color blind and uses belts only as functional in an auto mechanic wardrobe instantly thought of Waisted Reversible Belts and the name stuck.

Weber, like many Vermont artists finds the connections made with her customers as one of the greatest benefits of the process. "One of the best parts of being in the belt business is when I can help a group bond," concluded Holly Weber. "The best example is a group of women who ordered bright pink belts to signify breast cancer awareness in support of their mutual friend fighting for her life. I have also made them for bridesmaids' gifts in weddings. Specialty shops as far away as Lake Tahoe have ordered from us but locally you can find Waisted Reversible Belts at the Basin Harbor Club store and Danform Shoes on Shelburne Road and Church Street. Consider "liking" the business on Facebook or contact Holly by email: waistedrb@comcast.net. But be prepared because you will never see belts in the same mundane light again. These belts work and yet pop with fashion and fun and can be as individual as the person wearing them. The Valley Voice salutes the Yankee ingenuity and creative spirit of all Vermont artisans and their ability to put Vermont on the map as a center for quality craftsmanship and celebration of the simple things in life.


---
Advertisements
Search our Archives