Main Sections
Front Page
Sports
Valley Vitals
It's in the Stars
Starwise
Archives
Links
About The Voice
Contact Us
Getting To Know The New 2013 Miss Vermont And Miss Vermont's Outstanding Teen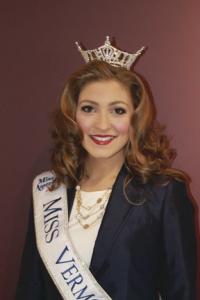 photo provided

Miss Vermont Jeanelle Achee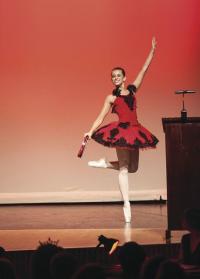 photo provided

Miss Vermont's Outstanding Teen Chloe Johnson
Tuesday July 2, 2013
By Cookie Steponaitis
When the stage lights dimmed at South Burlington High School, the stage finally cleared and the excited
parents, grandparents, contestants, family members and contestants moved outside, newly crowned Miss Vermont Jeanelle Achee and Miss Vermont's Outstanding Teen Chloe Johnson looked at each other
and grinned with relief. The stress was over and the whirlwind days leading up to the Miss Vermont Scholarship Competition was over. Little did both know the eye of the storm was waiting off stage to hit when they exited. Thrown in to a week that was included photo shoots, television interviews and meeting the many volunteers that will help guide their year, Janelle and Chloe walked off the stage and literally hit the ground running. Both girls discovered that being Miss Vermont and Miss Vermont's Outstanding Teen is more than appearances. It is about being on the job and traveling in the state they both love.

Jeanelle Achee became interested in scholarship pageants in her senior year of high school. " I signed up for the Miss Vermont Scholarship Organization after one of my friends told me that is how she helped pay for her graduate degree," shared the twenty-two year old UVM nursing student Achee. "I thought it couldn't hurt to give it a whirl and after the first year I was hooked." Achee grew up in Rochester, Vermont and loves the wonderful people and the community theater and arts scene that is a part of her small town life. "Every year I look forward to the Harvest Fair which is held in the fall and brings together all the parts of what I love the most about my town. If anyone wants delicious food, a friendly atmosphere to watch and hear some spectacular music Harvest Fair should be added to their calendars." While promoting Vermont and all the state has to offer at local, New England and national levels, Achee's year as Miss Vermont includes a serious message as well. "My platform is Stop the Silence: Advocating for Survivors of Sexual Violence and Promoting Healthy Relationships," share the new Miss Vermont. "It focuses on education of the community about how to help survivors, how to access resources as a survivor as well as teach younger members of the community how to start off relationships on a good front at a young age in hopes of preventing them from experiencing that type of violence in their life. In the next year I plan to travel The state and speak to many different age levels of people about my platform as well as the Miss America platform of Children's Miracle Network Hospitals. I would love to show people what amazing things the Miss Vermont program can do for younger women in this state and how it can be a launching board for new projects and directions." Achee would like to meet Vermonters who are skeptical about anything pageant related and share with them her own story. Miss Vermont 2013 is not only down to earth, but a Truman scholar with intense pride in wearing her both a crown and her nursing uniform. "I am on cloud nine," concluded Achee. "I still can't believe that I won Miss Vermont. I competed for five years for this Rounding out the slate of newly selected title holders is Miss Vermont's Outstanding Teen Chloe Johnson. Chloe became associated with MVSO in 2010 when she met Caroline Bright, Miss Vermont 2010 at a Vermont Lake Monsters Game. "She was approachable, kind, enthusiastic, well-spoken and encouraging. Because of this I have only positive connotation with this pageant. This led me to join the Preliminary Titleholder Program later that year to orient myself with the MVSO and competition criteria. It was a fantastic experience! I gained public speaking skills and confidence. It also allowed me to develop a personal platform and work with the Children's Miracle Network Hospitals."

A seventeen year old senior at Bellows Free Academy, Johnson is both academically and community minded in her own life. The new title is a vehicle for her to focus on a personal platform based on service, leadership, environment and fitness. "My platform is Be YourSELF in which the S stands for service, E for Environment, the L for Leadership and the F for Fitness," shared Johnson. "When creating my platform I recognized the importance of these topics and how they related to becoming a well rounded individual. I believe this combined with the message of be yourself would resonate most directly with young women in the community. I created an after school program and brought in well-spoken and knowledgeable speakers
to illustrate one of the four topics. My goal for this year is to inspire other young adults to start their own Be YourSELF programs within their communities." Johnson is headed to the national stage and competition in Orlando, Florida in less than six weeks and feels like she has lassoed a tiger by the tail. She has a talent for dancing and will represent the state in Florida performing en pointe. A member of the Northern Vermont Ballet Company and dancing since the age of three, Johnson will encourage young children to follow their passion and to pursue the arts. When asked what she wants to share most about Vermont with her audience, Miss Vermont's Outstanding Teen remarked, "The best thing about Vermont is the people. My fellow Vermonters are some of the kindest in the world." Sentiments indeed for two young women who are about to not only explore their own state, but take it with them to a national venue in Orlando and on the Miss America state in Atlantic City. Vermonters are well represented indeed!
---
Advertisements
Search our Archives