Retire? No, Keep On Cooking!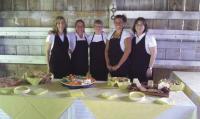 photo provided
Tuesday July 2, 2013
By Sean Harrison
How does an entrée including marinated filet of beef with a sugary sweet dessert of brownies with chocolate ganache sound..? It doesn't get any better than that! In 1990, Janice M. Munson received her catering license without the intention of what her present, Janice's Home Catering business has turned into twenty-three years later.

"Cooking started off as a hobby… I applied most of my focus to the attention of former Middlebury College President's Olin Robison and John McCardell as their personal managers."

Throughout her first fourteen years as a caterer from 1990-2004, Munson kept her catering business under the shadows to avoid more clientele than she desired, however, she began to rapidly gain a passion for cooking. In 2004, Munson decided to retire from Middlebury College along with former President John McCardell and follow her heart for the next chapter in her life. After losing three sisters due to cancer by 2004, Munson made the executive decision to narrow her scope and apply all of her attention to her menu of recipes. The moment she retired from the college,

Munson immediately had a fairly large range of clientele without advertisement or publicity due to her efforts for the previous twenty-four years with previous Middlebury College Presidents. Munson prepares and cooks her own dishes out of her own small house kitchen that includes three ovens allowing her to fulfill the high expectations of her customers due to the reputation she has built for herself around Addison County.

"I can't thank my wait staff enough for all the work they do to help satisfy and
entertain my clients…"

Munson has constructed a business that includes anywhere from 4-8 subcontractors depending on the size of the event, most of which are deliveries.
Over the entirety of her cooking career the largest event she has catered was comprised of 225 empty stomachs. Some of her most notable events that she has done for numerous years are: the annual Primelink Shootout, the Bach Festival, and Middlebury College Athletic Banquets.

Munson, who is almost seventy years of age, runs on a motor like a twenty-five year old marathon runner. She is lucky enough to have her Husband, Gerald Munson, for Fifty years this December who has been a huge help with lifting and transporting her dishes from the kitchen to the car and from the car to her storage barn.

When faced with the question she most often avoids, Munson finally gave an answer: "I want to continue cooking as long as I am healthily living and making my customers happy."

Munson has repeatedly made a positive impact in the Addison County Community and in the catering business. Her efforts and dedication to the world of cooking have allowed her to live a life with no regret and seems as though she will never be stopped.
---