Main Sections
Front Page
Sports
Valley Vitals
It's in the Stars
Starwise
Archives
Links
About The Voice
Contact Us
Sharing Sixty-Six Years of Barber Shop Wisdom: Celebrating Middlebury's Bud Lundrigan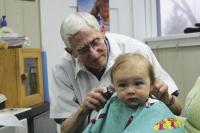 photo provided

Seen here cutting Connor Desabrais hair for the first time, Bud Lundrigan was performing the same task that he had for five generations of this one Middlebury family. Just a day on the job for this 66 year part of downtown Middlebury and community member.
Tuesday June 18, 2013
By Cookie Steponaitis
Bud Lundrigan grew up in Brandon, Vermont and to hear him tell it he was simply born to be a barber.
He used to hang around his uncle's shop watching, learning and planning to make it his vocation. He graduated from high school in 1941 which was a monumental year in American history and served his country in World War Two in the European Front for twenty months, returned home to the states and attended barber school for two more years.
It was June 1947 when Bud arrived in Middlebury, Vermont and became one of eight practicing barbers in the town. "At that time," shared Bud Lundrigan, "the college had a naval school as part of it. They taught military pilots the mathematics, science and other skills they needed before they went off to flight school. At that time cuts were 65 cents and shaves were 40 cents. Mr. Irving Denton who owned the building I rented said to me that I should not charge over 1.00 for a cut and a shave. Of course rents were also $35.00 a month back then for the building. That was a different time."
Bud Lundrigan would occupy a store space on Merchants Row in Middlebury, Vermont for the next sixty-six years and for some families five generations would come to him for their cuts. When asked about the unique role that barbers and often times hairdressers have in the lives of people, Bud simply grinned and responded, " Let's just say I've had a lot of fun and heard an awful lot of confessions over the years. But not once did it ever seem like work.
The people of Middlebury were so good to my family and me. When I lost my wife thirty-six years ago the community really stepped up and never once have I felt anything but family to the people who came to my shop. You get tired some days but never tired of As with all things change does eventually come to even the most iconic locations and destinations in small towns and this past November Bud went to Florida for part of the year and made the decision to sell his shop to Tracy Raymond who has been with him almost twenty years. "To this day," Tracy remarked about Bud, "he is the nicest man I have ever known. He does not have a mean bone in his body and what he knows about this area and the people is remarkable. He talks to everyone and knows all of his customers by name as well as their family stories. How many people can say that after over sixty years on the job?" Also echoing those sentiments is co-worker Suzanne Lahaie who has been with Bud and the shop for eighteen years. "A true sweetheart," added Suzanne. "He likes people and never once seemed to feel he was at work. It was all about cutting hair, listening and sharing stories."

Never one to seek any attention or the limelight Bud never announced his plans to the public and simply and quietly moved on to the next phase of his life. He dropped a personal note by at the Valley Voice this week and asked the paper to share with the readers his sincere thanks and appreciation for all the support and business from customers, friends and family over the years. Simple sentences yet as heartfelt as the handshake and smile that has greeted five generations of Addison County families for

When asked to share some of the best advice he ever heard from the literally thousands of people whose hair he cut and whose lives he has been a part of Bud paused, chuckled and remarked, " Learned to keep your mouth closed and to listen but not repeat what you are told. As the old saying goes, never talk about religion, politics or another man's wife."

Bud who is full of life and vitality to this day approaches his 90th birthday with the same sense of fun and wonder that made him a town destination for over six decades. "You get a window into all facets of people's lives," concluded Bud, "but it never seemed like work. It is hard to express the role in my life it played but it was positive each and every To Bud Lundrigan and the rest of his generation who always seem astonished that their lives are worth recording, celebrating and documenting a simple thank you does not seem enough but to Bud being with the people of Addison County is all in a day's work or a day's pleasure. Happy 90th birthday coming up Bud and thanks for five generations of cuts, smiles and listening to us in times of good and bad. Addison County will not be the same without you on Merchants Row.
---
Advertisements
Search our Archives