Main Sections
Front Page
Sports
Valley Vitals
It's in the Stars
Starwise
Archives
Links
About The Voice
Contact Us
Celebrating With Ed Foster And Foster Motors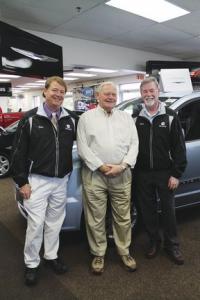 photo provided

Together in business and bonded by family, Ed stands with sons Scott and David who today represent the third generation owners of Foster Motors.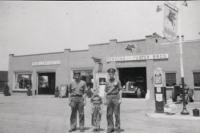 photo provided

Standing between the two original owners of Person & Foster Motors, six year old Ed Foster stands in front of what today is Foster Motors and represents over forty years of his life's work.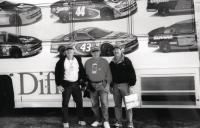 photo provided

Passion for automobiles extends to all levels for the Foster family. Ed and his sons were at the Daytona Speedway with many other auto dealers from across America in 2001 when Dodge was re-entered.
Tuesday June 4, 2013
By Cookie Steponaitis
It was 1924 when Person & Foster Brothers opened their repair and snowplowing business on the present site of Foster Motors in Middlebury, Vermont. The sign has changed over the decades but the service and connection to the community has not. The Chrysler dealership came into being in 1936 and in 1949 the business even included farm equipment from International Harvester in the lineup because of the needs of the community during the war years. Dodge was added in 1978 and Jeep in 1983. People in Vermont associate the Foster name and family with the sense of continuity, consistency and performance.

At the heart of Foster Motors and at the helm since 1962 when his father-in-law loaned him $29,000 to buy half of the business is Ed Foster. The Valley Voice stopped by this week to celebrate some milestones with Ed including his eightieth birthday and the eighty-nine years that Fosters has been a part of the Middlebury community. "I have been a very fortunate man," shared Ed Foster. "I have had many devoted employees who have stayed with us long term. People depend on seeing their faces and dealing with them through generations of families."

Ed graduated from Middlebury Union High School in 1951 and attended the University of Vermont where he met his wife Carolyn. After returning from a stint in the U.S. Army and service in Korea and Okinawa, the pair was married in 1957 and raised their children Scott, David, Michael and Susan in the Middlebury community. Today sons Scott and David are at the helm of Foster Motors. They continue to represent the values Ed has shared with them. Those values still work today. "Do it the best you know how and honestly," emphased Ed . "If you make a mistake, own up to it."

Over the years Fosters has had six major additions that resulted from the growing needs of the business and different expansions in the 70's, 80's and 90's. Today with four grandchildren and four great- grandchildren to keep him busy Ed is still found at his desk greeting people and working in the business he still loves. While sharing stories of the challenges that the dealership has weathered over the years Ed paid special tribute to the Vermont Auto Dealers Association that he has been a part of since its inception and all the good it has done for the people in automobile sales in the state. Ed also spoke with great respect for former Chrysler chairman Lee Iacocca who he felt cared about each of his dealers and was noted for the strength of his leadership. Current Chrysler chairman Sergio Marchionne also earned praise from Foster who commented, "In the past few years he has revamped the whole line and given us engines and transmissions that far and away exceed others."

Ed is rooted in service and briefly mentioned the many key positions he has held in the community as chairman of the board of banks and other organizations vital to the financial planning and growth of the county. "Where has all that time gone?" joked Foster. "I truly want to thank all of the longtime employees we have had and continue to have. There are so many but I want to specifically thank Rita Piper, Bob Davignon, Ray Bordeau, Charlie Rule, Jess Hanson, George Patnode, Don Dayton, Dick LaFave, Stuart Lee, Neil Palmer and Marvin Holden, just to name a few retired employees, some of whom have left this earth. And all the present loyal employees with 40, 30, 10 and 5 years as Foster Motors family. I am very positive about the future of this company and the area."

Positive indeed and whether it was joking with his sons who called in on the intercom to see if he "forgot" important dates or information and was laughingly told, "not very likely," of showing the Voice reporter photos of a six year old Ed Foster standing between Clifford Person and Ellis Foster, the message is clear. What began with fixing Model T's in 1924 and doing a little of everything turned into a cornerstone of business in the Champlain Valley because Ed Foster and his family were a part of the formula. Happy eightieth Birthday Ed Foster and many more to come!
---
Advertisements
Search our Archives