Main Sections
Front Page
Sports
Valley Vitals
It's in the Stars
Starwise
Archives
Links
About The Voice
Contact Us
Local Teen Scores In Bowling Championship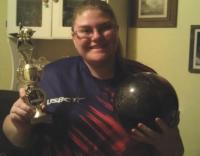 photo provided
Tuesday May 14, 2013
The Pepsi USBC Youth Championships is a nationwide tournament open to all USBC Youth members. Beginning with qualifying during their leagues, youth bowlers have the opportunity to advance to a state finals event and earn scholarships, where they can compete against bowlers from across their state! Last year, more than $500,000 in scholarships was awarded across the country as part of this tournament! Finalists from the state events have the opportunity to move onto the Junior Gold national tournament.

The North Pointe Junior Gold Championships is an annual national tournament for the top male and female youth bowlers in the United States. The tournament awards $250,000 in scholarships and youth bowlers also have the opportunity to earn a spot on Junior Team USA. The tournament is broken up into 4 divisions - U15 Boys, U15Girls, U20 Boys, U20 Girls.

Anissa Martin of Weybridge bowled in the state event on Saturday, May 4, finishing in 1st place for the U15 Girls division, including a place in the Junior Gold national tournament and a $300 scholarship. Anissa, along with three other youth bowlers in the U15 division, will be traveling to Detroit, MI July 13-19, 2013 for the 2013 North Pointe Junior Gold Championships!

Anissa has been bowling since she was 2 years old. Now at 15 and a freshman at MUHS, she holds a 175 average. Her high games that qualified her for first place on Saturday, May 4 ranged from a 191 to 230.


---
Advertisements
Search our Archives