Main Sections
Front Page
Sports
Valley Vitals
It's in the Stars
Starwise
Archives
Links
About The Voice
Contact Us
Connecting With Youth Reaching Out With Young Life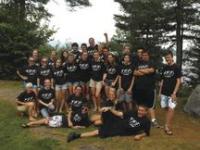 photo provided

Students from Mt. Abe pose during a week at the Young Life camp on Saranac Lake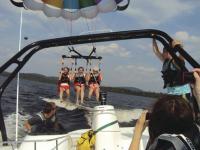 photo provided

Parasailing is just one of the amenities included at "Saranac Village", the Young Life camp on Upper Saranac Lake.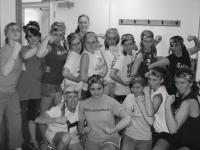 photo provided

Volunteer leader, Nancy Orvis and girls from Mt. Abe getting ready for the obstacle course.
Tuesday May 14, 2013
About ten years ago, two dozen community leaders, parents and pastors met at Holly Hall in Bristol because they cared about teenagers and wanted to learn about Young Life. Since then hundreds of students from Mt. Abraham Union High School have been involved in Young Life camp, club and other activities. Our hope is that teenagers in Middlebury and Vergennes would have the same opportunity. To accomplish that goal, Todd Goodyear was hired in October 2012 by the local committee to serve as Addison County Young Life's first Area Director.

Young Life was incorporated in 1941 by Jim Rayburn, a seminary student and part-time youth minister in Gainesville, Texas. He wanted to reach out to kids who were disinterested in church. Rayburn took the challenge to go where the kids were, meet them on their turf and find a creative way to share the love of God with them. Rayburn's method of reaching out to adolescents worked in 1941, and it continues to be effective today.

Our staff and volunteers enter the world of kids, focusing on what matters to them — fun, adventure, friendship and a sense of significance. We enter their world with no expectation of who kids should be, but with every hope for who they can become. In doing so, we earn the privilege of talking to them about something that we think matters most of all — the truth about God and His love for us.

Young Life is like one big "party with a purpose" where all are welcome and treated like honored guests. It may be club — the best night of a kid's week — or camp — the best week of their life — or just the invitation to spend time with a leader who has become their friend. But before the party ends, we share a simple message about God's love for them.
Young Life believes that every adolescent deserves a chance to consider the basics of the Christian faith in terms they understand from people they trust. We encourage those who want to grow in their faith to explore it in study, deepen it in service, share it in leadership and celebrate it in a church of their choosing. And we respectfully continue to share our lives and message with those who choose otherwise, because our friendship and love in Christ come without conditions.

Young Life is making a difference in the lives of kids in Addison County because we are locally supported by adults who care for kids in their community. Our staff and volunteer leaders are trained in time-tested methods of relating with adolescents, and we are equipped by a world- class organization that is dedicated to effective ministry. This combination of local support, proven methods and organizational strength allows Young Life to thrive locally in more than 83 countries, reaching over one million kids each year with the life-changing message of God's love for them.

If people would like to learn how Young Life can be a part their community, they can call Todd Goodyear at 802-349-0498 or email him at yltgoodyear@gmail.com. You can learn more about Young Life at www.younglife.org
---
Advertisements
Search our Archives