Main Sections
Front Page
Sports
Valley Vitals
It's in the Stars
Starwise
Archives
Links
About The Voice
Contact Us
A Partnership In Law Enforcement: Chief George Merkel And Akido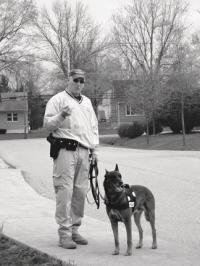 photo provided

Chief Merkel and Akido pause during a presentation at VUHS demonstrating for students the skills that make this law enforcement partnership so successful.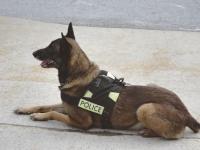 photo provided

Laying down on command, Akido keeps a watchful eye on his partner just out of photo range, ready in a second for his next command and task.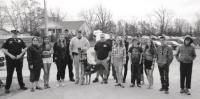 photo provided

After displaying his trained side, Akido switched to pampered and loving pup who got a pet and belly scratch from the assembled group of Civics and Current Event students.
Tuesday May 7, 2013
By Cookie Steponaitis
Devoted viewers of the new police drama Golden Boy may have paused in shock this past week when a scene flashed a familiar pair on the screen. Make no mistake about it; you were not seeing things. Vergennes Chief George Merkel and his canine partner Akido were in fact doing a guest spot in the new television drama. The pair was selected for their skills and partnership and is one of two Vermont officer/dog partners featured in the episode. "Akido got paid more than I did," joked Chief Merkel. "He really was why we were asked in the first place."

Seen by most Vermonters as the tagalong in the police cruiser marked canine unit, few are aware of the level of training, skills and intellect of these canine partners in crime and the unique relationship they have with their handlers who are also police officers. Akido and Merkel became a pair in 2008 and have literally been inseparable ever since. Chief Merkel has been involved in canine law enforcement partnerships before and had a devoted German Shepard named Blade who was his partner from 2003-2010. While Akido is not the hulking figure that the 100 lb. Blade was, he weighs in at 75 pounds of power and skill. Akido, a Belgian Malinois, not only tracks, searches and offers protection but can detect illegal drugs as well. Akido was a part of a drug bust in the Vergennes area that netted 266 bags of heroin and other illegal paraphernalia in the past week alone. "We like to call our little police department the Mouse that Roared," shared Chief Merkel. "We want to send a message loud and clear that Vergennes is not a place to come and sell or distribute drugs."

Chief Merkel and Akido met with a group of students from Ms. Taylor's Civics and Current Events and Mrs. Steponaitis' World Cultures classes at VUHS and took the time to explain the invasive nature of heroin and the high rate of addiction it has on the people who use it. "It becomes a pattern where the person hooked on the drug needs to steal every day just to buy the amount to satisfy their habit," remarked Chief Merkel. "In talking to people who are now in jail for their addiction and their decisions because of it many of them would need $75,000-$90,000 a year just to keep up with their addiction."

When Chief Merkel and Akido make a traffic stop Akido first helps establish what is called, "reasonable
suspicion" that there are illegal substances in the car. If the dog alerts Chief Merkel to the presence of drugs in the car or on the person he can then seize the car and apply for a search warrant because he has probable cause. Akido's skills are sharpened not only by the sixteen weeks of schooling and the one day a month refresher courses butin the bond that exists between him and Chief Merkel. Akido lives with the Merkels and responds to one word commands that take him from a lovable dog eager for belly rubs and back scratches to a working police dog that can bring down a suspect, track a suspect or identify an illegal substance in a vehicle or at another site. Akido demonstrated his skills, speed and his unfailing responses to his partner's lightning fast commands to change position or even more difficult to hold position in the VUHS parking lot. Senior Chase Atkins volunteered to be tracked and was sent to a distant location on the school grounds. After smelling Chase's hat, Akido made short work of finding Chase, even though Chase had walked on concrete, dirt and in varying wind conditions. Akido has located and identified thousands of bags of illegal substances and every day puts his life and skills to work along with his human partners on the local police force.

As the demonstration concluded Akido stood patiently and went student to student to get his rubs and hugs. Affectionate and personable, Akido knew he was then off duty and hammed it up for all assembled. One word from his partner and Akido went back into work mode, a serious and conscientious partner in the law enforcement community, keeping people safe and proving yet another way that dogs truly are man's best friend.
---
Advertisements
Search our Archives