Main Sections
Front Page
Sports
Valley Vitals
It's in the Stars
Starwise
Archives
Links
About The Voice
Contact Us
2013 WomenSafe Mother's Day Card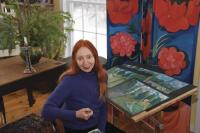 photo provided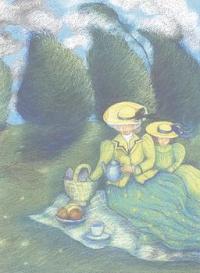 photo provided
Tuesday April 30, 2013
WomenSafe is pleased to announce that Addison County artist Phoebe Stone's artwork will grace the 2013 Mother's Day card – our 12th Annual Mother's Day Card in the Local Women Artist Series. Phoebe Stone has always been an artist. One of her earliest memories is of her fifth birthday party in which an easel and paints suddenly appeared in her house along with a group of children and a lot of balloons. At the party, Phoebe and all the children had to stand in line waiting for a turn to paint at the easel. When the guests went home Phoebe thought the easel and paints would leave with them. "Oh, no," her family told her. "The paints and easel are yours to keep!" From then on, Phoebe has found great joy and solace in painting. She also writes novels for young people (published by Arthur A. Levine Books, Scholastic) and has written and illustrated four picture books for little ones.
Before combining her love for images and words into picture books, Phoebe was a successfully established fine arts painter. During this time, she has received two Vermont Council on the Arts painting fellowships. Her work was exhibited in many museums and galleries all around New England and New York City influencing many New England artists with her unique, brightly colored narrative and metaphorical style.

Presently, Phoebe resides in Addison County. When she is not writing or painting, she enjoys growing flowers in her garden, which she makes into bouquets to paint. Phoebe loves to read and study history. In the warm weather she is fond of going to flea markets and you may often see her with her husband David Carlson riding their bicycles around Addison County.

The pastel "Picnic with Mama" that graces the front of the WomenSafe 2013 Mother's Day card is an illustration for a book called "A Day in the Country" which has not yet been published. Your mother or other special someone can enjoy this card while in her honor you are helping those women who may not be safe this Mother's Day. Just send a donation to WomenSafe at P.O. Box 67, Middlebury, VT 05753 along with the name and address of your chosen honoree. WomenSafe will then acknowledge your gift by sending them this beautiful card.
---
Advertisements
Search our Archives