Main Sections
Front Page
Sports
Valley Vitals
It's in the Stars
Starwise
Archives
Links
About The Voice
Contact Us
Celebrating With Valley Voice Owner Cheryl White All That Makes Vermont Special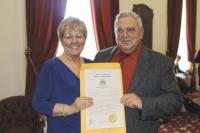 photo by Cookie Steponaitis

Cheryl White receives a copy of the resolution from Harvey Smith.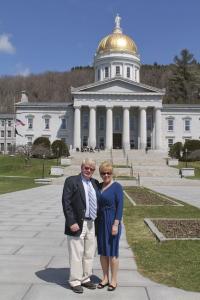 photo provided

Cheryl White with her husband Dale Logan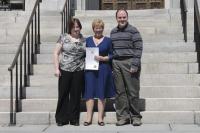 photo provided

LtoR: Janelle Manning, Cheryl White and Brian Manning.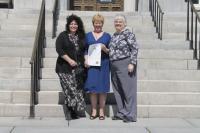 photo provided

LtoR: Roxanna Emilo, Cheryl White and Cookie Steponaitis.
Tuesday April 23, 2013
By Cookie Steponaitis
When Valley Voice owner Cheryl White stood before the Vermont House of Representatives on Wednesday, April 17th and received the honor of a resolution commending her commitment to journalism, community and the Champlain Valley she simply smiled and said, "Thank you." The resolution came as a shock to her and one she was honored by but felt was not really necessary. Cheryl, not one to seek any limelight said, "I love what I do and the people we sell to and write about. It is all about family and the tradition of working together to get the word out about what makes this a special county." Special it is and so is White herself.
Cheryl has been associated with the Valley Voice since 1974 and her family has four decades invested in Valley Voice being a venue for both local advertising and presentation of inspiring and uplifting stories about local people, projects and traditions found in small-town Vermont. The House Resolution also shared that Cheryl White has worked throughout her tenure to broaden the newspaper's readership which now numbers thousands to include in each weekly issue a balance of Yankee ingenuity, community products, community stories and a reverence for celebrating life while at the same time offering a starting place for many young writers and photographers to pursue their craft.

The hallmark of the resolution focused on Cheryl's never ending pursuit of the traditional brand of quality journalism and historical continuity which readers on both sides of Lake Champlain have enjoyed for three generations. It also remarked publicly on Cheryl's truly caring and conscientious guardianship of her family's commitment to journalistic excellence and her public view of giving people a chance to find their passion and place in the community.

In a world where change is constant and ideas from the past are often disallowed as outdated, Cheryl White and the Valley Voice stand for something more tangible and critical than an award and a moment in print. They articulate and practice the established qualities that Vermont was founded on and the Champlain Valley still holds dear. People talk, share, plan and work to build a community where the quality of life is not dictated by outside forces or influences but a place where a handshake is still your word or bond and people support local endeavors and celebrate local stories of love, warmth, faith, farm and family. So carry on Cheryl White into year forty and beyond. The counties you serve know you, thank you and are glad that we live in a place where something does not change and some people are as constant as the changing weather.
---
Advertisements
Search our Archives