Watch That First Step, It's A Doosie! Exploring Vermont Skydiving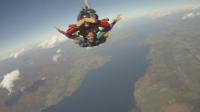 photo provided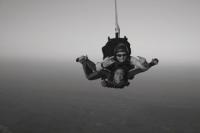 photo provided
Tuesday April 16, 2013
By Cookie Steponaitis
The staff of Vermont Skydiving Adventures (VSD) has for the past twenty one years, with nineteen of them in West Addison been jumping out of perfectly good planes on purpose and repeating it with joy and enthusiasm. It may seem like a crazy idea for those of us grounded on terra firma but each year more than 600 people make the trek to West Addison and experience a tandem jump, many for the first time. Vermont Skydiving Adventures offers a lens through which to learn more about the people who work there and this wonderful and unique opportunity available located in Addison County.

"Why skydiving?" was the question posed and VSD owner Ole Thompson explained it this way. "Why skydiving? Why not? It offers many things besides the obvious that it must be somewhat thrilling. If you take lessons you become more confident as you progress through the different levels. You are literally learning to fly! Human flight! IF you can jump from an airplane you can do anything."

Thompson jumped for the first time when he was twenty one and went on to open Vermont Skydiving Adventures when he was twenty nine. It began as a hobby and slowly turned into a business. Thompson shared that a person wanting to jump must be eighteen years of age and under 240 pounds to skydive. "We offer three types of a first jump," explained Thompson. "Two require an all-day class, accelerated free fall or static line. The most popular is the Tandem Skydive. After about twenty minutes of training you are harnessed to your instructor and exit the airplane from 12,000 feet."

Ole Thompson went on to describe a free-fall of 45 seconds at 120 mph and a parachute ride of seven to eight minutes long. The patron can select to pull the ripcord and help steer the parachute or leave it to the instructor. One thing not in dispute is the spectacular view of the entire Champlain Valley, Lake Champlain, the Adirondacks and the Green Mountains from a bird's eye perspective. It will certainly put a new spring in your step and provide a new perspective of what you are capable of accomplishing.

Thompson shared with those concerned with safety, "The number one question is how safe is it? As in any activity there are always inherent risks involved. Through training everything is done to reduce the risk."
Vermont Skydiving Adventures is open four days a week, Fridays through Mondays and until the end of October for those of you curious or ready to take on a new challenge. They can be reached at 802-759- 3483 and at their web site Vt Skydiving.com.

Man's desire to soar like a bird dates back centuries and illustrations of a parachute appeared in Leonardo da Vinci's famed notebooks in the 1500's. Today skydiving is a science and one with the technology to back it up. So, whether as a one-time deal or for those with interest in lessons Vermont Skydiving Adventures is in West Addison, Vermont and waiting to help you take that first step out of the airplane and into a world of challenge and breathtaking beauty that you can only imagine unless you stop by and give it a try.
---