Middlebury Memories with Ruth and Pete Gipson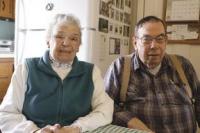 photo provided

Happy 50th Anniversary Pete And Ruth Gipson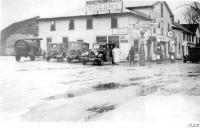 photo provided

Cartmell's Garage in 1928 a local favorite. Pictured above Gladys Cartmell Brown near John Phillips 1927 Buick.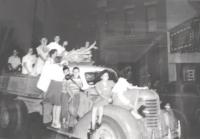 photo provided

Victory celebration to remember. Ruth rides on the front bumper.
Tuesday April 9, 2013
By Mike Cameron
Ruth and Pete have seen a multitude of changes both here in Middlebury and across the state. Before they met and were married, both had interesting jobs and career paths that would weave their lives into the fabric of the local landscape. Sharing some of these memories with the couple at their home in Middlebury recently was a wonderful experience both from an historical and personal perspective.

We began with Ruth relating her experience as a young woman with additions from her husband Pete, who was an engineer with the State of Vermont up until his retirement. Their first recollection was the significant impact of a hurricane that swept through Addison County and much of Vermont on November 25,1950.

Ruth remembers the storm as having knocked out power at the Bell Telephone office where she was an operator.

"We were in the Battell Building which had a distinct Cupola on top. It was damaged by the storm and eventually was moved to Middlebury College," she recalled. The police, fire and other authorities were consolidated in town at the Battell building and the telephone system was powered by a generator, the only source of communication in or out of town during this emergency. The storm reduced the service to one line for emergency use only.

Pete Gipson noted that the F.A. Tucker Construction Co. were on their way back from a job in North Carolina and headed to Canada at the time. They stopped on their way back to help Middlebury cope with and recover from the storm.

Ruth recalled another slice of life from her past working at a former resort hotel in the Adirondacks near Elizabethtown, New York and lake George. There was also an interesting time when she worked in Florida with other young women friends from the area at a time when Daytona Beach was just beginning to become the NASCAR mecca that it is today. "We worked in a large hotel called the Princess Issena and also the Sheraton and had a chance to see some of the NASCAR divers including today's legends of the sport." Names like Petty, Roberts, Lund, and many others frequented the hotels and held banquets there.

Pete was involved in learning his profession at the time and the two meet and married in 1963, two days after the assassination of JFK. Pete recalls: "everything was closed and there was a suggestion that we wait to get married but then someone mentioned that President Kennedy was a man who always looked to the future and so we continued with our original plans and have been married for 50 years."

Pete has some great memories of his work in the construction business and growing up in Middlebury.
"Papa, Pete's father, built a house at 26 Washington Street in 1934, which is still there today." His family owned and operated Gipson Brother's Lumber of Brandon and Middlebury. It was head-quartered where Danforth Pewter is now. The family sold the business in 1946. It was the first year of the Post World War II Era.

The couple also remembered some interesting and humorous anecdotes from the town's past history including why Pete was called Pete when his first name was not Peter. "That was my Mother who started calling me Pete," he recalled.

There was also the story of a big Saint Bernard that enjoyed an occasional hand-out of a big bone from Middlebury Freezer Locker and leaving the "prize" near where he and his family lived.

Pete Gipson worked 38-years for the Vermont State Highway Department as a highway engineer. His projects took him from one end of Vermont to the other. Projects included the Southern Connector near So. Burlington, Kahart Crossing near Vergennes and work on Court Street. Asked about the new Cross St. Bridge he added, "I was not originally for it , but it has worked out very well." He remembers that the new Middlebury Union High School on Charles Avenue was at one time considered for construction on the property where the old Middlebury fairgrounds was located south of town.

Both Ruth and Pete remember the Addison County Trust and later when it became Chittenden Bank and of course the early days of National Bank of Middlebury.

The Gipsons are active and engaging people who love family gatherings with their two grown sons and their families including five grandchildren and "two very special daughters in law," and a grand son in law on the way.

We want to thank the Gipsons for their hospitality and sharing their special memories with the Valley Voice.
---