Main Sections
Front Page
Sports
Valley Vitals
It's in the Stars
Starwise
Archives
Links
About The Voice
Contact Us
Celebrating Women Biologists: Meet Nettie Maria Stevens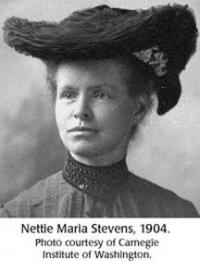 photo by Photo courtesy of Carnegie Institute of Washington

Ahead of her time and leading the pack, Vermonter Nettie Maria Stevens earned her degrees and her place in the history of the study of cell structure.
Tuesday April 2, 2013
By Cookie Steponaitis
Most people who call Cavendish, Vermont home know the Adams name. The original homestead including, "50 acres, four cows, 5 hens, 3 wagons, 2, sleight and a 16 acre woodlot," was already three generations old when Nettie Maria Stevens was born in 1861. Her mother was a school teacher and Nettie grew up in a family that valued education and she excelled at learning. Her father made a good living as a builder and Nettie studied at Westford Academy where she learned Greek, Latin, Logic, geography, music and was one of only three females to go on to college from the academy. Nettie earned her own living as a teacher, moved to live on her grandmother's farm and taught math, zoology and physiology before following her dream of attending college in California.

Nettie crossed the country by train, arrived in California and began making a name for herself at Leland Stanford University by earning the highest grades in her class. She earned a Master's in Biology in 1900 and became a recognized name in the field of science as the result of her work under the microscope detailing many varieties of marine life and working in the new field of cytology which specialized in the formation, structure and function of the cell. Nettie continued her studies in Switzerland and later earned a Doctor's Degree from Bryn Mawr College in Pennsylvania at the age of forty-two. She published her first paper on cytology the following year and went on to research at some of the most prestigious centers around the world.

Her study of meal worms and later on other species of insects resulted in her determining the difference between the two classes of sperm and identification of the X and Y chromosomes and earned her a place in science history. While her dream was to be a researcher and avoid the classroom she was offered a teaching position and expected to teach at the university level. Nettie Stevens tragically passed away from cancer at Johns Hopkins Hospital in 1912 before she could assume her new role. Today the field of cytology is in the forefront of gene identification and is helping to shape the future of cancer research and other types of research seeking cures by understanding life at the cellular level. Nettie Maria Stevens was ahead of her time and definitely one of the earliest leaders and earned her place in medical history and in the annals of Vermonters who set the bar long before it was fashionable or even considered practical by using hard work, Yankee ingenuity and ardent persistence.
---
Advertisements
Search our Archives