Main Sections
Front Page
Sports
Valley Vitals
It's in the Stars
Starwise
Archives
Links
About The Voice
Contact Us
Nancy Foster: RE/MAX Franchise Top Producer in Vermont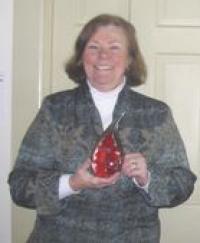 photo provided
Tuesday April 2, 2013
By Larry Johnson
RE/MAX of New England, Inc. recently named Nancy Foster, co-owner of RE/MAX Champlain Valley Properties at 101 Court St. in Middlebury, Top Producer In Vermont for Transactions in 2012. Nancy's real estate closings for last year number in the mid-40s, and her great success is a reflection of resurgence in the real estate market, not only in Vt. but nation wide.

According to RE/MAX New England "sellers are still a little reluctant to list their homes and with a hotter market inventories are down and prices are rising. Good news for sellers.

For instance, median house prices have risen to $196,250 from a median price last year at this time of $165,000. Pending sales have also increased from 409 in February of 2012 to 497 in February of 2013. As always, according to Nancy, statistics need to be taken with a grain of salt. One of the main reasons for the sharp price increase is that higher priced homes that have been on the market for a long time are finally starting to sell after a protracted period of sluggishness. In other words, a rising tide raises all boats. Also, suppressed 30-year mortgage rates are still below 4% and it would seem that this is the trend for the foreseeable future.

More jobs, low interest rates and a more optimistic attitude toward the nation's economy in general has begun to resurrect a modest but steady increase in the real estate market.


---
Advertisements
Search our Archives