Main Sections
Front Page
Sports
Valley Vitals
It's in the Stars
Starwise
Archives
Links
About The Voice
Contact Us
Generations Strong: A Tribute To The First Responders And Their Commitment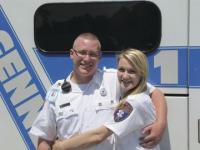 photo provided

Ryan Donnelly and Ashley Eriksen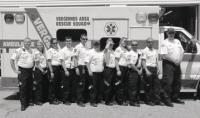 photo provided

Vergennes Rescue
Tuesday March 5, 2013
By Cookie Steponaitis
"Service is being ready to answer the call of someone in need at any point of time." First Responder and Firefighter Ryan Donnelly put into perspective the ideology and reality of being involved with First Response in Vermont with these words. Donnelly, like many of Vermont's First Responders is not a first generation member and literally learned the lifestyle of service and commitment at the knee of older generations. "My great-grandfather Harris Yandow started the Ferrisburgh Fire Department," shared Ryan Donnelly. "My great-uncle Richard Yandow was a firefighter, my Uncle Mike Donnelly was a Deputy Chief and my grandfather Chuck Donnelly was Assistant Chief of the Ferrisburgh Fire Department. You can literally say I grew up in it."

Donnelly went on to describe a sunny afternoon when he was a child and his family was eating lunch at their home. Suddenly his mother starting screaming that his youngest brother wasn't breathing. He had swallowed a Sun Chip without chewing it thoroughly and it lodged in his throat. As Ryan watched his father performed the Heimlich Maneuver and his mother called 911. The First Responders arrived promptly and at that point his brother had passed the chip and was breathing again. This was a defining experience and reinforced for Donnelly the desire to be able to help people in need someday.

Donnelly and others like him realized the vital need for First Responders and the impact that distances have on families in respect to emergency facilities growing up in a rural state like Vermont. A member of the Vergennes Rescue Squad since 2009 and serving in the Ferrisburgh Fire Department from 2000-2007, Donnell currently serves both on Charlotte Fire Department and Rescue Squad and Vergennes Rescue Squad. Donnelly shared, "That being a First Responder at his level of training involves maintaining airway breathing and blood circulation, obtaining vital signs, performing a basic assessment, scene safety, bleeding control, splinting, oxygen administration and administration of auto injected epinephrine. I train with Vergennes Rescue Squad two to three times a month approximately three hour trainings as well as two to three fire department trainings a month with Charlotte Fire," commented Donnelly. "In addition to that I also train with Charlotte Rescue. But we also have the opportunity to train with many other squads as continuing education credits."

Speaking at length about the partnership between the First Response units including fire and rescue, Donnelly spoke of the roles each person has and the system that has been developed based on the science of rescue and fire. Training continues year round and the groups work in concert with each other, supporting and at the same time clearly understanding the roles defined for each member of the unit.

Also present was Donnelly's fiancée who has also been involved with First Response from a young age. "I have always been interested in working in emergency medicine," remarked Eriksen. "I kind of followed in my aunt's footsteps and used it as a building block for my nursing career." Eriksen like many others comes to the service of others from family examples with her aunt serving as an EMT, dispatcher and grandfathers and uncles who were EMT's, drove ambulance and served as firefighters.

Eriksen has become a master of multi-tasking and remarked about her schedule as a full time nursing student. "I have a very hectic life, full time work in the ICU, full time nursing school Monday-Friday, and I pull my regular six shifts a month at rescue and also help with the admissions there and teaching CPR classes when I have free time. Needless to say when I do have ANY free time it is spent at rescue or working with rescue in some way, shape or form."

While both Donnelly and Eriksen feel that the public is fairly educated about First Responders both identified the misconception that they are doctors. While they can perform EKG's to determine if a heart attack has occurred, First Responders cannot confirm a diagnosis. They treat what they see. "We can do blood sugar analysis to determine if someone is having a high or low blood sugar or a diabetic emergency," added Eriksen. "We can give IV fluids to replace fluid volume when someone needs fluids or if their blood pressure is down. We can give several different medications for various things; diabetic emergencies, cardiac emergencies, anaphylaxis resulting from severe allergic reaction, narcotic overdose, and so on and so forth. We can treat very minor to very severe symptoms from cardiac arrest in which we would perform CPR, get advanced airways in place and call for advanced cardiac drugs that are in the scope of a paramedic in the pre-hospital setting. We also work with extrication for car accidents, stabilizing injuries and delivering babies on occasion. There are so many lifesaving interventions we can perform as EMTs but the diagnosis is in the hands of the physician. Sometimes you have to improvise in the field when resources are limited but there is always something we can do to help someone in a medical crisis or with a traumatic injury. It is always better for someone to call 911 when they are in doubt."

A second misconception Eriksen feels many people have is they are 'being a bother' in calling out the First Responders. She was quick to remind people that First Responders are a 24/7 service and they are there because they love serving the community and working in EMS. "No call is ever a bother to us when someone is in need of our services. It is always better to be safe than sorry," concluded Eriksen.

Eriksen also remarked on the benefits received from the whole squad training. "I think the benefit of training as a squad is learning to utilize your whole crew, other resources that are available and to allow everyone to have a job on the call. There is always something for someone to do," remarked Eriksen. "Whether it is setting up equipment, performing a task, gathering equipment, radio communication, driving, crew chiefing, leading the crew, taking vital signs, etc. Training as a crew helps to make sure everything gets done. What one person doesn't do someone else can do. It is much more thorough because we can ask questions and learn from each other."

Whether it is fire, rescue or those involved in the planning or dispatch of these highly trained volunteers, the common thread that binds generations and keeps them strong is a commitment to service. While Vermonters have grown to accept and take for granted the services of these dedicated professionals, there was a time when the people of Vermont were left to wait and face crises mostly on their own. Thanks to the dedication of generations of Vermonters there is now a format, a plan and dedicated professionals who reach out when community members are in need no matter the time of day or night. This kind of service is above the call of duty and defines the quality of life in this region of the nation. Eriksen summed it up when she concluded the interview with her personal definition of service. "Service also means working together as a team," concluded Eriksen. "You cannot have a rescue squad with just one person. We all have a role in the system and everyone plays a very important role."


---
Advertisements
Search our Archives