Main Sections
Front Page
Sports
Valley Vitals
It's in the Stars
Starwise
Archives
Links
About The Voice
Contact Us
Sharing Memories & Secrets Of FiftyThree Years Of Marriage With Raymond Paquette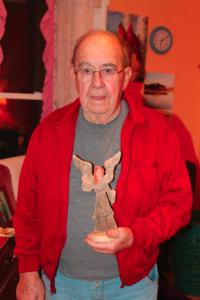 photo provided

Carving mostly in pine, Raymond commits to wood vivid images from his mind and heart. After calling Vermont his home for the past 63 years he would have no other.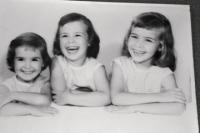 photo provided

His three gems, his daughters, Marsha, Alison and Lynn were the hearrrtbeat of his family and the final factor in all decisions he and wife Barbara made.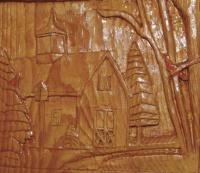 photo provided

Some of his work includes notable presences in our lives, as this rendition of the Cornwall-Shoreham covered bridge demonstrates.
Tuesday February 19, 2013
By Cookie Steponaitis
Raymond Paquette knew exactly when he met the love of his life. He looked across the room at a square dance in Cornwall, Vermont and that was all there was to it. Raymond had come to the dance as part of a blind date you see, fixed up by his sister who worked with this girl's sister and 'why she just lived over on the other road' so what could it hurt to go to a dance? That dance was more than just a good time. It was the beginning of a partnership that spanned fifty-three years and only ended with the sad passing of his wife in 2003. "If not," Raymond assured this reporter, "we would be talking about the 63rd year of marriage and not just 53rd." The wife in question was Barbara Piper Paquette and together Ray and Barbara raised their three daughters Marsha, Alison and Lynn at their home in Cornwall. Today he is the proud grandfather of six grandsons and great grandfather of five great-grandchildren. Raymond has to secretly admit that he has a soft spot for the girls in his clan because they remind him of his Barbara and keep alive not only her memories but many of her ideas, habits and commitments.

Raymond Paquette was born in New Bedford, Massachusetts in 1927 and was fourth of eight children who spanned fourteen years of age. Raymond's parents lived a life of hard work and taught responsibility to their children at a young age. "My mother was a homemaker and my father a truck driver and truck manager," recollected Raymond. "I grew up pre-programmed to love children and besides having seven siblings is a good training for life. You are never alone. You never lack for friends and you learn early on how to divide chores, responsibilities and to share." Raymond, with a grin went on to explain that in the house next to him was a Portuguese family with eight kids, another neighbor had seven and yet another had seven daughters and they all grew up together as friends.

What life lessons Raymond didn't learn from his large family of siblings he learned as a member of the U.S. Navy during World War II. Raymond enlisted and served from November 1944-1946 as an aerial gunner on a Flying Boat. "If you were not grown up when you went in," Ray remarked, "you were shortly after. The war was a time of great change for Raymond but at its end fate stepped in and Raymond moved to his Cornwall, Vermont home which he would cherish for over fifty years. Ray's father bought a farm on the North Bingham Road and Raymond joined the family when he came home from the war. When asked about his farm responsibilities, Ray simply smiled and stated the two never ending duties of cleaning barns and making hay. "There were no mechanized barn cleaners in those days except if you count us three boys," chuckled Raymond. "And we had no shortage of supply of product if you know what I mean."

Twenty-one years of age on the night of that fateful square dance Raymond popped the question eleven months later and the couple was inseparable for the next half a century. Warming up to his favorite subject of all Ray shared about his Barbara, "She was a great dancer but even a better kisser if you are allowed to print that. She was a one room school teacher in Addison and she was a talented artist." The pair made their home in Cornwall and for thirty-eight years Raymond worked at Polymers Plastics in Middlebury. He also had a career as a Deputy Sheriff for Middlebury and only stopped after he figured he was too old to keep up with the youngsters.

After expressing to Raymond that his article would come out close to Valentine's Day and that people always stood in awe of marriages lasting as long as his Raymond was willing to share what he called common sense facts about a successful marriage. "Stick it out together and most importantly work it out," commented Ray. "When you are angry, walk away and cool off. You will realize that 99% of the time what you were hot about is simply silly. Barbara and I always made what we called double decisions. We looked at any move, purchase or plan as to how it affected us both and then our family. There is no I in a marriage. You are a family unit. I remember once my daughter who was thirty-one at the time heard Barbara and I raise our voice at a conversation we were having about politics. Our daughter burst into tears because she had never heard us argue. Never. It was and is that simple. When it comes down to it, there is no magic wand, just love and a partnership."

The love of art and nature also bound the couple together. While Barbara was the painter of the pair and Raymond proudly displays her oil paintings of Fern Lake and other scenic locations in Vermont, Raymond has a passion for carving and has worked in pine for the past forty-five years. He simply sees a design and then one stroke of a knife at a time it appears in the wood. On his walls are some of his current pieces including the Salisbury-Cornwall Bridge, a farm scene and a delightful rendition of Vermont woods at the height of sugaring. Raymond has made 107 pieces or so to this date and is delighted that his daughter in Washington State keeps track of which grandchild and great-grandchild has which carving. "I never sold any of my work," concluded Raymond. "That way I can give what I want to whom I choose and that seems to work for the whole family."

While Raymond loves all of the Vermont wood available he did conclude with the fact that he loved to burn maple and oak in his woodstove but his passion for carving was based in part on his love of pine. Right now sitting on his side table are pencils that he is transforming into works of art for some grandchildren." It never gets old," sighed Raymond. "Each piece is a new adventure, kind of like life in general," lessons learned in a large family, in the service and in the Cornwall home of a couple joined by love of each other , love of family and love of the land. all Vermonters of his generation who still love today with the same commitment they did in their youth, and believe it or not the WWII generation has a 90% still married rate to prove it.


---
Advertisements
Search our Archives