Main Sections
Front Page
Sports
Valley Vitals
It's in the Stars
Starwise
Archives
Links
About The Voice
Contact Us
Saying Goodbye To Elaine Holbrook The "Avon Lady"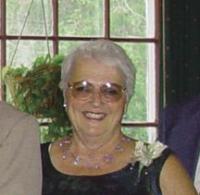 photo provided

Elaine Holbrook
Tuesday February 12, 2013
The Valley Voice joins hundreds of others who will remember Elaine Holbrook with happy thoughts and her infectious laugh. "It is with a great deal of sadness that we have learned of Elaine's passing. We all have lost a good friend and neighbor. Elaine was a staunch supporter of our paper and would visit us often." Voice publisher, Cheryl White explained when she learned of Elaine's death this past week. Some of us called her the "Avon Lady" because she always had her cars filled to the brim with Avon products for all occasions. Buying Avon was not required to be her friend, however, somehow we all seemed to have a bottle or tube of this or that, all purchased because we loved the "Avon Lady". The products were always as she recommended, and she was very convincing. Buying from her was fun!
Elaine was a real Vermonter who loved to talk about the history of the area. She had a keen intellect and a remarkable memory. You could not become the "people-person" that she was, without understanding other people's needs and she was only too happy to be there for her family, friends and customers.

In recent years Elaine had met and managed many health challenges, never loosing her 'can-do' attitude and winning smile. She was a woman of faith and believed in the power of prayer. Her passing will be a loss for all of us who had the good fortune to know her. After all, it will be impossible to remember Elaine without breaking into a smile and perhaps even a little chuckle when doing so. She made folks feel good because she knew that sometimes just feeling good is good enough. Goodbye Elaine; we will all miss you.
---
---
Related Stories:

· Services For Cheryl White
· Cheryl N. White

Advertisements
Search our Archives