Main Sections
Front Page
Sports
Valley Vitals
It's in the Stars
Starwise
Archives
Links
About The Voice
Contact Us
Bronson Transport & Y-Not Enterprise LLC Join the New Businesses in Addison County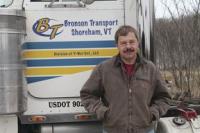 photo by Cookie Steponaitis

On the road and in his shop, Jeff Bronson is open for business with Bronson Transport!
Tuesday January 29, 2013
By Cookie Steponaitis
Jeff Bronson has been involved with mechanics, fabrication, repair, sales and agriculture for over thirty years. Jeff started as a young man working with his father and discovered that he had a 'mechanical touch' and the rest was simply that, "necessity was the mother of invention." When Jeff first started in the garage of Willy LaFountain he spent time working with mechanics of all specialties and types. Jeff has proudly worked for some of the best and longest established businesses in Addison County.

When the opportunity presented itself at the end of July 2011 to go on his own Jeff fulfilled a promise he had made to himself years before and opened his own business. The first division of his new enterprise is Bronson Transport through which Jeff hauls milk, whey, hay, lime, agriculture equipment and forestry equipment. He is licensed to haul in four states and Jeff loves to work with the farm community and to, "help farmers to help themselves."

The second division of his new business is called Y-Not Enterprise, LLC and focuses on Jeff's longevity in the field of mechanics. Jeff specializes in cars, trucks and farm and works on equipment he finds and takes jobs that people bring to him. While neighbors and even some friends asked him why he would give up two good guaranteed jobs and strike out on his own, Jeff believes that there is a need for his skills and the connections that he brings to the businesses he loves. "I decided to do it," shared Jeff. "I had faith that staying diversified, using skills and adapting is the key to being successful. Now seven months into the business I am still as excited and have great faith."

For people looking to reach Jeff about hauling, mechanical work or just to share information about a new project the best way to connect with him is by his cell phone. Jeff Bronson is currently on the road six days a week and out and about with his own business and entrepreneurial spirit. Give him a call at (802) 989-4195


---
Advertisements
Search our Archives