Main Sections
Front Page
Sports
Valley Vitals
It's in the Stars
Starwise
Archives
Links
About The Voice
Contact Us
Celebrating 60 Years as a Middlebury Lion and 98 Years of Life with Dr. Ray Collins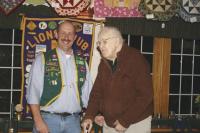 photo by Cheryl White

Doctor Ray Collins receives his 60 year pin from King Lion Roger Desabrais Jr. at a recent Middlebury Lion's Club ceremony.
Tuesday January 15, 2013
By Cookie Steponaitis
Ray Collins was born in Brookline, Massachusetts in 1914 and grew up in a family of five children. His father Ray Williston Collins was a starting pitcher for the Boston Red Sox from his debut on July 19, 1909 to his last game in October 1915. Batting and throwing left handed, Ray was a member of the 1912 Red Sox world champion team. Ray Collins was raised by parents who had a passion for life and a drive to succeed and went into medicine half because of his own dreams and half at the urging of relatives. "I got good grades and watched how the doctors in my community had good standing, had the trust of the people and were involved in many phases of local life," reflected Dr. Collins. "Attending college at the University of Vermont I started out training for being a general practitioner and eventually was able to work into general surgery. I found myself wanting to see the people through their illnesses and to be a part of the health and well-being of my patients."

Dr. Collins, pausing only for a moment continued to explain that at that time there were no surgeons in Middlebury and if a patient had acute appendicitis or even more complicated injuries a call went out to the surgeons at the University of Vermont and the Mary Fletcher Hospital. While the car helped cut the travel time for the surgeries, Dr. Collins admits he was pulled over a few times for exceeding common speeds in order to reach his patients in time. He also remarked on the fact that there was no insurance at the time either and many of his patients paid in goods and services. Over the years he took in almost everything you can imagine as payment for services.

Dr. Collins has been a Middlebury resident for at least sixty years and he and his wife Elizabeth raised their daughters Elizabeth, Louise and Nancy in town. Dr. Collins practiced for over fifty years as a surgeon and was recently honored by the Middlebury Lions Club with his sixty year pin. Ray Collins is one of the founding members of the Lions and was also instrumental in the community and state with his work and fundraising for the Middlebury Congregational Church, American Heart Association, "People for Porter" and his beloved Middlebury High School Football program.

"When the football team started," shared Ray Collins, "they didn't have a field. My wife and I wanted to have a field with special soil and sod so that the players would not only have a place to play but an appropriate base so they would not get hurt. We approached each of the towns and really spent time looking for the right mixture of soil. When the field was built all the materials for the field were donated. We were very excited to be a part of the sports, education and civic life of this town." In addition to putting the field in place Dr. Collins' involvement with the game, the team and the educational programs of the school did not end there. A member of the school board and committees for over twenty years Dr. Collins shared that in his eyes education was one of the most important foundations for the town. "Of course you naturally get involved," he remarked. "This is our home and where our children will grow up." With three children, grandchildren and three great-grandchildren to his credit, Dr. Ray Collins was full of stories about them and the two other doctors in the family, daughter Nancy and granddaughter Meredith.

When he was not involved with medicine and the town, Dr. Collins was just as passionate about agriculture and raised and bred registered champion Holsteins. Showing this reporter a framed sketch of one of his prized Holsteins he spoke about the link between agriculture, the vitality of the state and the kind of life that balances the best that Vermont has to offer. Smiling at memories of local, state and national competitions, Ray Collins still knows a champion Holstein on sight and could strike up a conversation with any local farmer on breeding, feeding and other relevant issues to life in Addison County. At 98 years young he will jokingly credit genetics for part of his great health and longevity, Ray Collins suggests to all people the simplest of health tips. "Walking," stated Ray Collins. "The simplest and most consistent prescription for good health this is. Just do it."

While there is a football stadium and wing of building that bear his name, Dr. Ray Collins was more than delighted with the pin he received earlier this week from the Middlebury Lions. "It simply is a wonderful pin," concluded Dr. Collins. "I am really proud to wear it." Standing as a courtesy for this reporter at the conclusion of the interview, Dr. Collins had a firm handshake and a parting concern, ever still the physician caring for his patients and community. "Make sure the light is on," he admonished. "Wouldn't want you to slip, get hurt or break anything." The Valley Voice salutes Dr. Ray Collins for his longevity, skill as a surgeon, compassion for others, example as a civic leader and his skills with bovines and those who work in the agricultural side of life in Addison County.


---
Advertisements
Search our Archives